Two Great Seafood Joints in Willemstad
As you might expect for an island nation, fish is a popular meal on Curaçao. And as you might expect for a Caribbean island nation, fried fish is where it's at. I'm sure there are others, but we found two local seafood joints that we can recommend.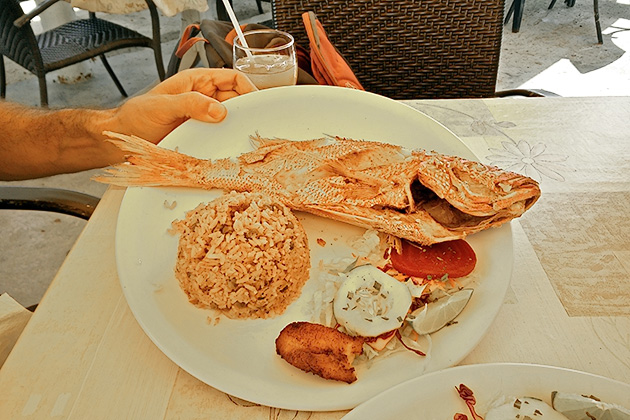 The Seaside Terrace is on the south side of Willemstad, down near Mambo Beach. We'd heard about the restaurant from a lot of different people, and none of them were exaggerating. This place doesn't disappoint.
As soon as we stepped onto the terrace, we were greeted by a man who must be the restaurant's owner. "Welcome, welcome! Glad to see you! So much fresh fish today! Lionfish! Monk fish! You've tried red snapper? No? You must try the red snapper! Please, sit down!" Overcome by his enthusiasm, we sat down directly where he pointed, and ordered exactly what he suggested. I'm glad we did, because the red snapper was wonderful. This fish is a specialty on the island, and is usually served whole and fried, with strong seasonings such as garlic and thyme.
We really liked the Seaside Terrace, but had an even better time during our next seafood excursion. After going diving with Scubacao, our instructor Anton had taken us to Oscar's, a tiny shack across from the Aqualectric desalination plant in Otrobanda. On that occasion, we'd just had a beer, but he made us swear to return for lunch. "Best fish on the island."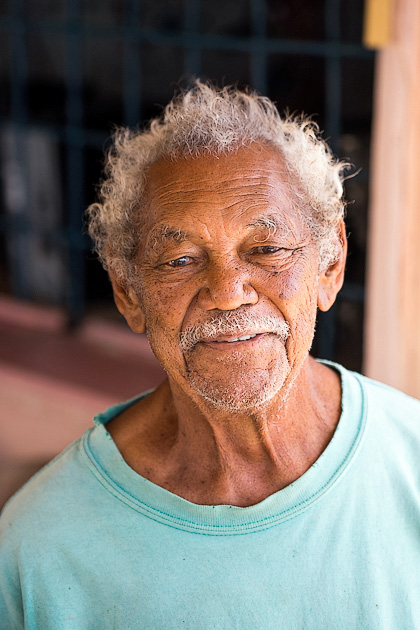 Before even tasting the fish, we had fallen in love with both Oscar the Restaurant, and Oscar the Man. He's the sweetest old guy you're ever likely to meet, and took the time to chat with us after we sat down. He was born in Antigua, but came to Curaçao as a child and has lived here ever since. He told us about his trips abroad, and how he loves the water but isn't allowed to go diving anymore. "But they can't stop me from snorkeling!"
This restaurant is a tip so under the radar, it's nameless. We had been referring to it as "Oscar's," since we knew that to be the owner's name, but I thought I should verify with the waitress before leaving. "Hmm… no, I guess this place doesn't actually have a name. We all just call it Oscar's." At least we had been doing it right!
We were thrilled when the fish turned out to be as good as Anton had suggested. It would have been sad to enjoy everything except the food. Oscar's not the easiest place to find (the best way to identify it is by the rocking horse which, for some cryptic reason, sits above its front entrance) but if you're in the mood for an excellent, and extremely local dining experience, you couldn't do better.
Locations on our Map: Seaside Terrace | Oscar's
Note: When we asked, Oscar said they closed on Wednesdays.