Sunday Happy Hour at Mambo Beach
Mambo Beach is the exactly kind of place which Jürgen and I normally avoid. Not only is it over-developed and crowded, it's also attached to a shopping complex. But Mambo Beach isn't necessarily just for tourists; Curaçaoans come here in droves, especially for the Sunday evening happy hour specials.
Among seasoned travelers, there's definitely a shared conception that off-the-beaten-path adventures are inherently better than those which are popular. But if you refuse to do anything which might be commercial or too well-known, you're shutting yourself off to a lot of experiences. So, every once in awhile, it's good to visit a place like Mambo Beach.
Still, we showed up to Mambo with a bad attitude, ready to indulge our mockery. And the place was begging for it. All across the island, you see billboards for Mambo featuring beautiful, blonde women laughing and carrying shopping bags. To get to the beach, you have to walk through BLVD, an outdoor mall with the hottest names brands! And the trendiest fashions! It's all so hot and trendy, Jürgen, we have to shop, shop, shop! And then we'll be hungry… should we go to Chain Restaurant #1 or Chain Restaurant #2? They're both so hot and trendy, let's just flip a coin!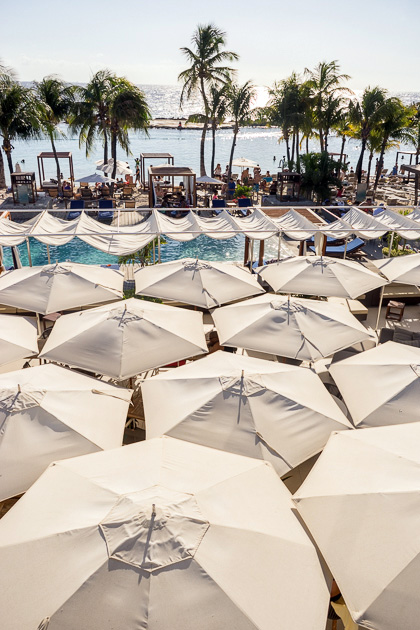 But after a few minutes of walking along the beach, we started lose the sarcasm and wake up to Mambo's charms. Many of the bars here actually did look cool. And although the beach was crowded, it wasn't overrun, particularly on the southern end near the Hemingway Bar. The lounge chairs were spaced out wide, the water was just as blue and beautiful as anywhere else on Curaçao, and there was a nice mix of foreigners and Curaçaoan families out for the day.
"And fine, there's shopping," I scolded myself, suddenly embarrassed of my prior sneering. "As though I've never been to a mall."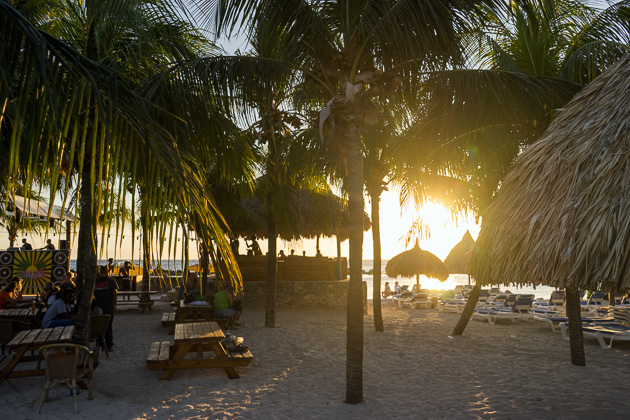 We scouted out the entire beach, before sitting down for a couple drinks at the Cabana Beach Bar, where there was an early happy hour special. Before long, we were chatting with this huge, body-building Curaçaoan guy who'd taken a seat next to us. He was a car enthusiast, and engaged us in a conversation about the East German Trabants which are still being driven around the island.
I'm not sure what that anecdote is meant to illustrate, except for the fact that Mambo Beach is a good place to meet and interact with an entertaining variety of people — weight-lifting, car-obsessed Curaçaoans, for instance. That's especially true on Sunday, when everyone is drinking and having a good time. As the Cabana's drink special came to a close, the one at the neighboring bar began, so we moved over.
Wet 'n' Wild's Sunday Happy Hour is something of a Curaçao institution, and the single most frequent recommendation we get when asking about fun nightlife. There's a DJ set up on the beach, generous discounts on beers and spirits, and a large crowd on hand… and it's as enjoyable as it sounds. We had arrived at Mambo Beach with cynical attitudes, but left with happy buzzes and a rekindled appreciation for the fact that over-developed, crowded, commercial activities can also be worthwhile. Not always, but it's possible.