A Friday Night Feast at Equus
Located on the eastern side of Willemstad, Equus is a Curaçao institution, popular for both its mouthwatering food and chilled-out atmosphere. But it's not for everyone. Don't go if you're a vegetarian. Don't go if you had a big lunch. And definitely don't go if it's not Friday. However, if you're a hungry carnivore on Friday night, head on down. You're going to love this place.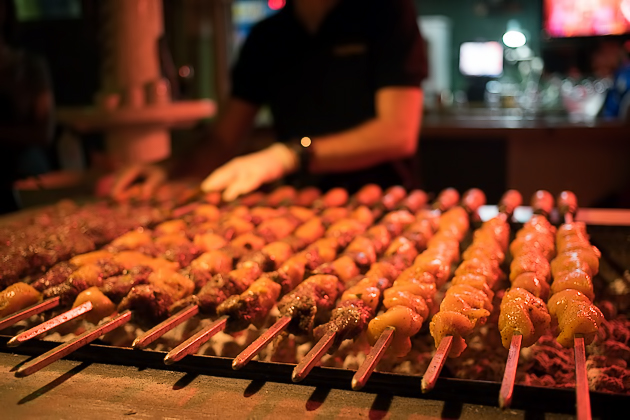 The first thing you do when you enter Equus is find a seat. There's a strict "no reservation" policy, and there's no waiting list for tables. You just grab whatever table you can, find a stool if no table is open, and in the worst case scenario, stand at the bar to wait for an opening.
The second thing you do is put your order in. There is no menu, because the only thing Equus serves is skewers: beef, chicken and vegetable. Under no circumstances order more than one skewer per person; for most groups, the "golden ratio" might be two skewers for every three people. And don't forget to grab a bucket of beer. Get comfortable and start drinking; you're probably going to be waiting for a long time before your food arrives.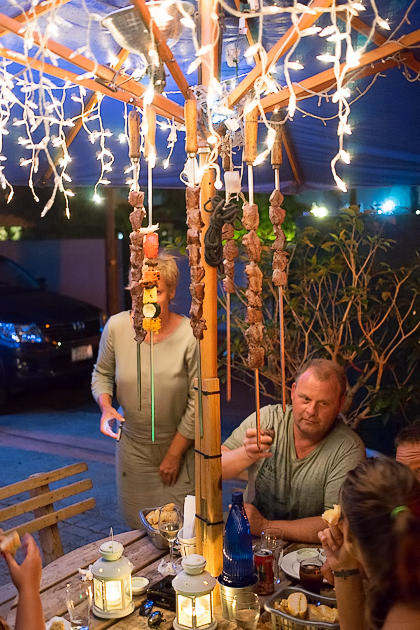 The third thing you do is to talk to the cook. He doesn't mind, and in fact seems happy to chat with his customers. He's mostly just turning the skewers over the grill, and isn't too distracted to tell you about the place. I asked him about the reason that Equus only opens on Friday, and he told me that it's an old tradition. The restaurant was actually part of a ranch, and Friday night was when all the workers would gather to feast and party after a long week.
The fourth thing you do is eat. Your food has finally arrived and, hopefully, you've ordered a little of everything. The beef, you know that's going to be good, and it is… in fact, it's incredible. But what might surprise you is that the chicken is just as delicious; succulent and richly flavored. And the veggies are better than veggies have any right to be. I had expected that our group would be fighting over the beef pieces, but it turned out that we fought over everything.
Equus isn't the cheapest restaurant on the island, but it might be the coolest. The outdoor seating area, decorated with colorful Christmas lights, the central grill pit, the good mood of the crowd, and the ultra-friendly service all contribute to make this Friday night meal something to remember.