Diving at Directorsbaai and Double Reef
We had such a fun time diving with Scubacao, that we would have liked to get back into the water the very next day. However, Curaçao has a lot more to offer than scuba diving, so we forced ourselves to be patient. But after a month, we could wait no more. So we called up Anton and Marc, and were soon rumbling in Scubacao's truck toward Directorsbaai.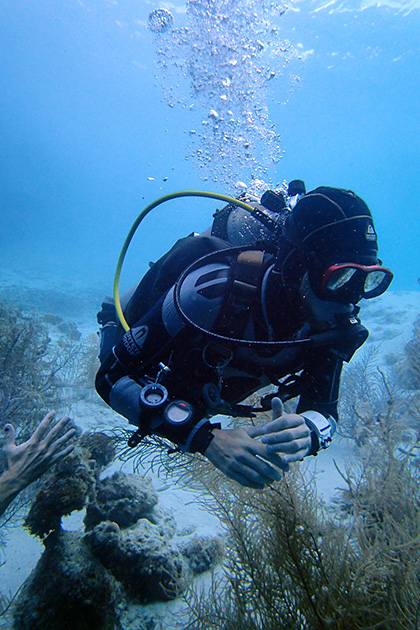 When Anton suggested Directorsbaai as a potential for the day's underwater adventure, we immediately agreed. We had already been snorkeling here, and knew that it would make for an amazing dive site with its dizzyingly steep drop-off just meters offshore.
Before we got into the water, Anton explained something we had wondered about the last time we visited Directorsbaai. There are a set of skinny metal pylons in the water, whose use we couldn't figure out; they're old and look too weak for mooring boats. Turns out, these were once part of a shark net meant to protect the Queen of the Netherlands, during her visit to the island decades ago. There's never been a recorded shark attack in the history of Curaçao, but this is the Queen we're talking about. Better to play it safe.
The net is long gone, but we swam around the coral-covered pylons, hoping to spot an elusive seahorse. Anton had seen a few around Directorsbaai, and knew the spots in which they might be found. Still, it was hard work; with their bodies covered in lichens, seahorses blend in perfectly to their surroundings, but Anton was eventually able to locate one of the little guys. They're not exactly the most beautiful of God's creatures, but unique and strange, and it was exciting to see one in its natural habitat.
We also managed to spot an octopus during our dive. Apparently, this guy is an old acquaintance of Anton's, and can usually be found in the same place. The octopus is always attempting to hide, and Anton once saw him grab onto a clear beer bottle to use as a shield. Instead, with the bottle tipped up toward his face, it just looked like he was getting drunk. Today, he was content to stay motionless on top of a rock, and hope we didn't see him. Sorry buddy, it didn't work… smile for the camera!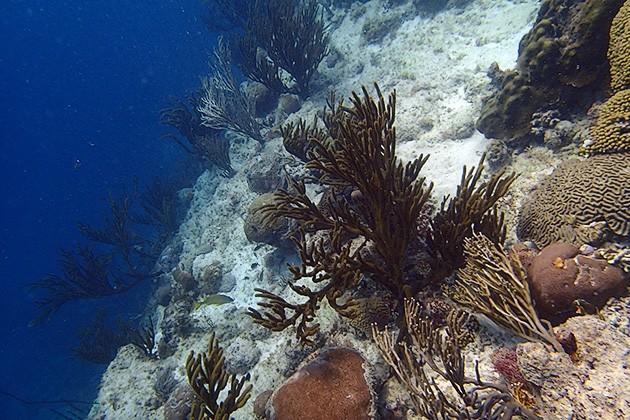 After a short break, we moved on to our second site of the day near the Mundu Novo desalination plant in Otrobanda. We had visited this section of town a few days ago, but weren't aware that it was also a good place to go diving. Anton parked at a small seafood shack, where we prepared our gear and walked into the water.
The coral reef here is in great shape, and the visibility was fantastic. This second dive was somewhat shallow, between six to ten meters, allowing us to remain underwater for a full hour. There was so much to see, I could have happily stayed for two more.
In a reef as pristine as this, stuff is happening everywhere, and it pays to look close. Anton found a rare type of shrimp hiding in sea anemone, and later handed me a flashlight, so that I could peer into the crevices of a wall. In almost every conceivable hiding spot, I saw a different fish lurking in the dark. We found two goldentail moray, spotted a barracuda swimming off in the distance, and followed around a cute puffer fish; I think of all the fish we saw in Curaçao's water, the friendly, goofy-looking puffers might be my favorite.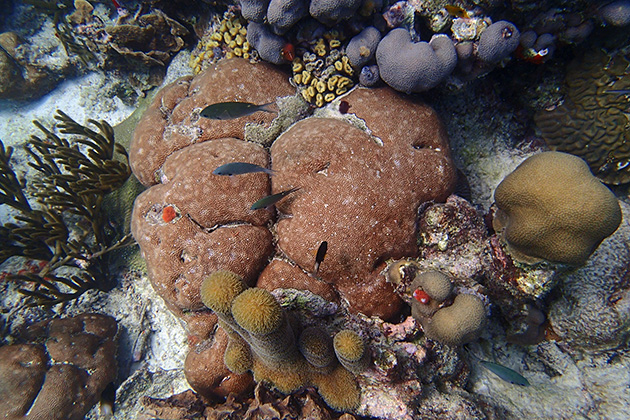 Once we were finished, we sat down at the neighboring seafood shack and relaxed. Anton introduced us to the owner, Oscar, and then made us promise to return for a meal, here. After looking at the plates being served to the other tables, it was a promise we happily made… and kept!
We couldn't have hoped to meet a better diving outfit than Scubacao. Not only did they take us to incredible sites, they also proved to be very knowledgeable about Curaçao. The first time I heard Anton carry on a conversation in Papiamento, I couldn't believe it. We picked up quite a few tips, and learned a lot about the history and lifestyle of the island, just from spending time with them. If you're looking for a great scuba experience, get in touch with Scubacao.
Locations on our Map: Directorsbaai | Oscar's
Scubacao – Website
–Travel Health Insurance Including Scuba Diving
Pictures from the Directorsbaai Dive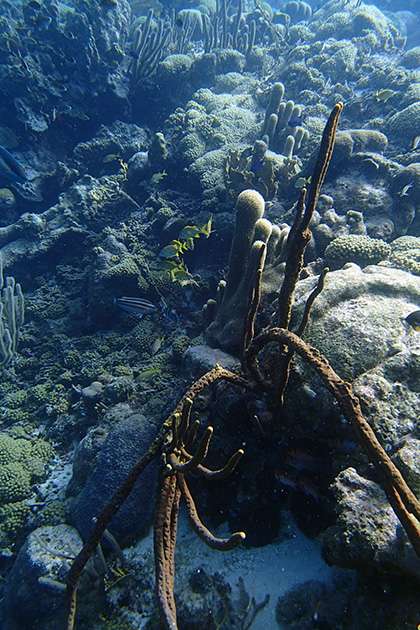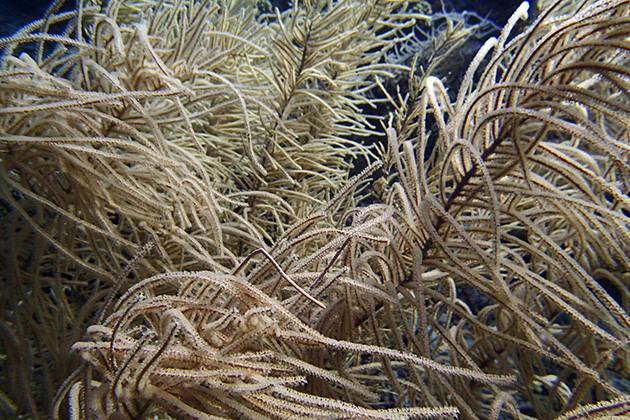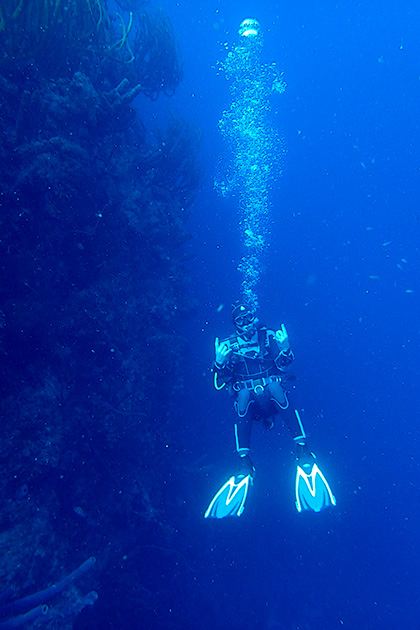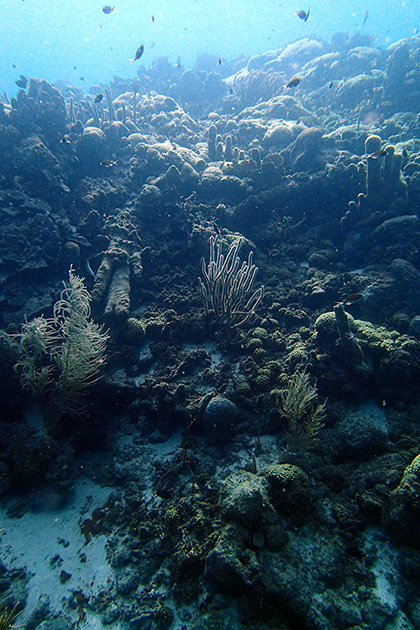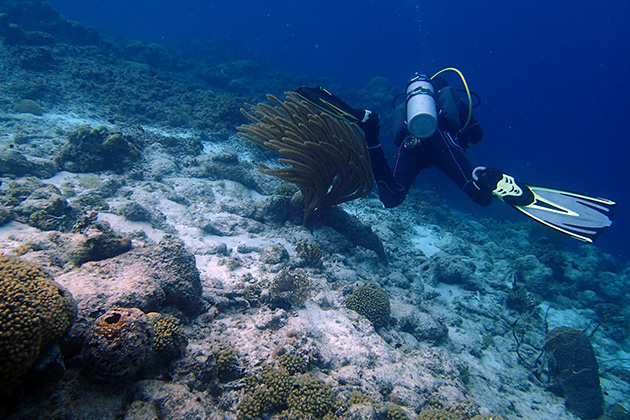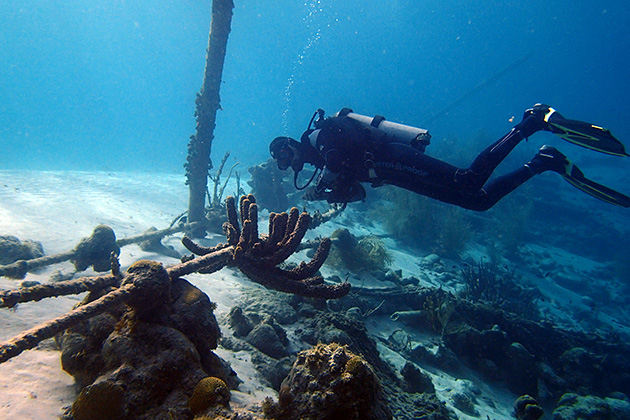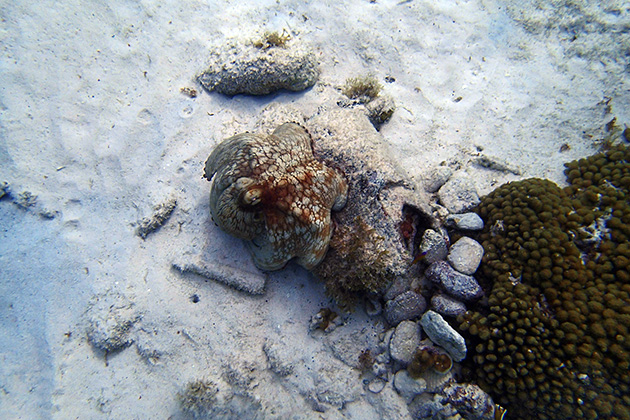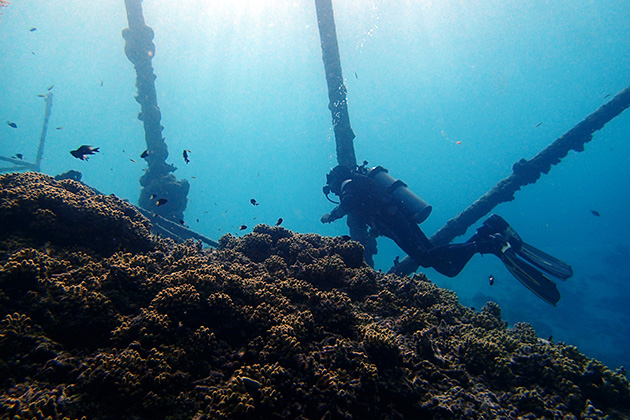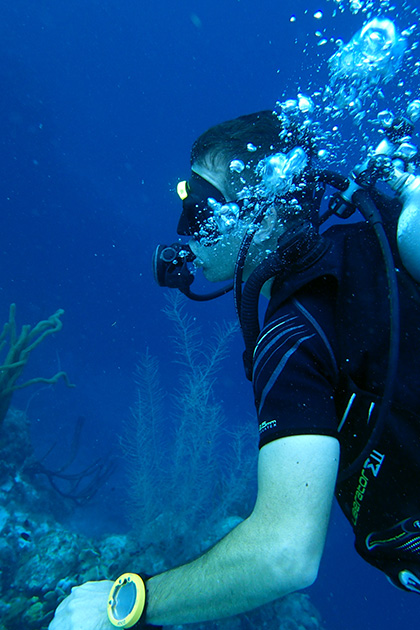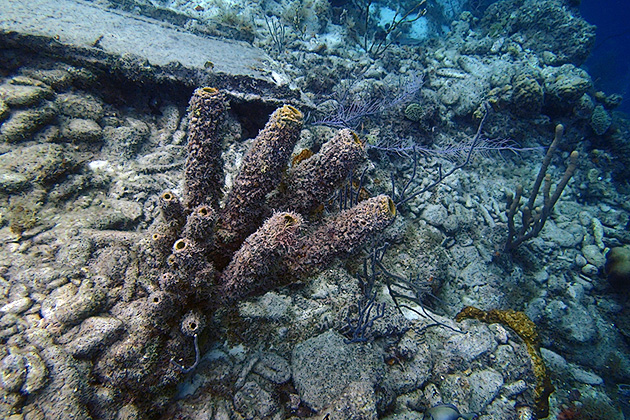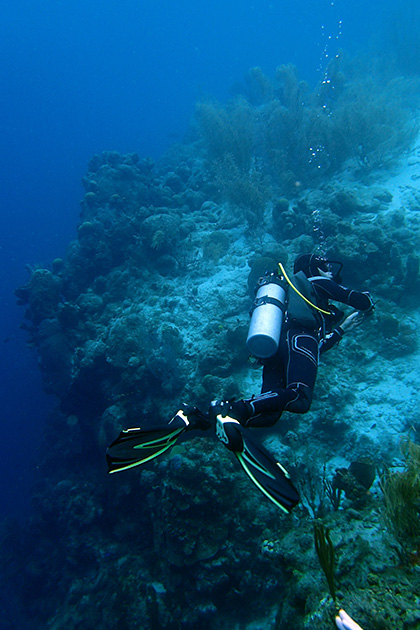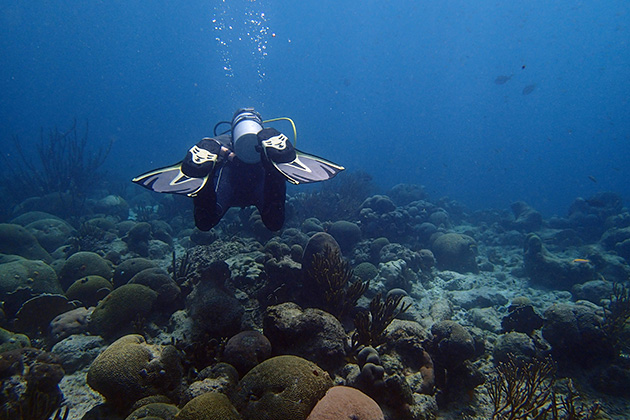 Photos from the Double Reef Dive