A Local Lunch at Plasa Bieu
There's no getting around the fact: Willemstad is a cruise ship city. Nearly every day, another massive ship is in port, and thousands of visitors cram into the old town. It's a financial windfall for many businesses, but it comes with downsides for locals and local-wannabes like us. For example, there's an over-abundance of restaurants aimed at tourists, with kitschy decor and high prices. Luckily, other options exist, and we found a great one at Plasa Bieu.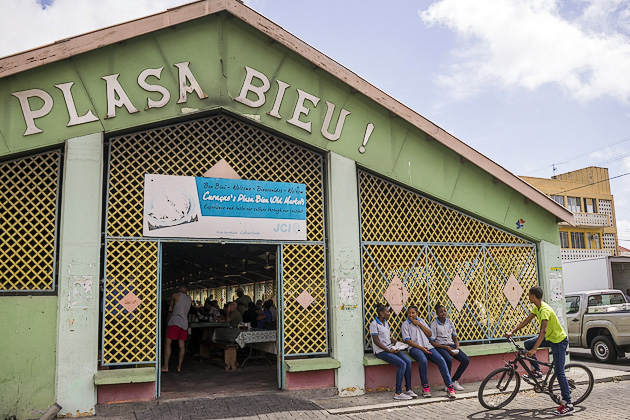 Plasa Bieu, or the "Old Market," borders the Waaigat harbor near the central post office and the Round Market. It looks like a small, rundown factory… and I suppose that's what it is. A little factory which has been manufacturing delicious, affordable Curaçaoan cuisine for decades. From the looks of things, I wouldn't be surprised to learn that nothing has changed in fifty years; not the stands, the pots, nor the people ladling out stew or frying up fish.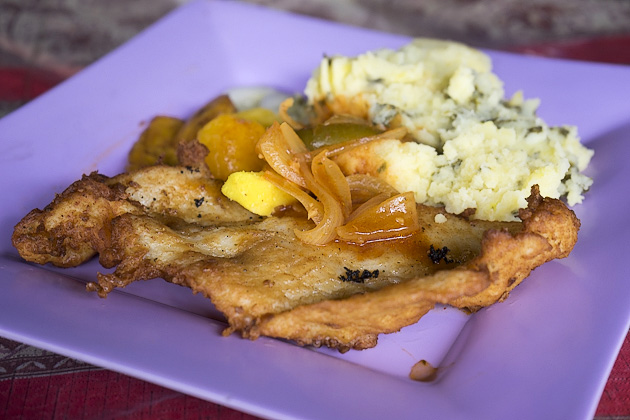 There are half a dozen stalls in Plasa Bieu, and we would eventually be sampling them all. For our initial visit, we tried out Grasia di Dios — third, I think, from the entrance. I ordered fried grouper with mashed potatoes and salad, Jürgen got stewed beef, and we both tried a cold glass of a spicy ginger drink. While eating, we were also staring at the delicious plates others had ordered, and already talking about a return trip.
Plasa Bieu welcomes a good mix of locals and tourists for lunch. Our waiter was friendly and, like everyone on Curaçao, apparently able to speak five languages, and we quizzed him about the other plates we saw being served up. A popular dish seems to be cactus soup, and you can also ask for iguana stew. Neither of those sounded the slightest bit appetizing to us, but if you're feeling bold, be our guest. Iguana awaits.