A Birthday Celebration at Playa Forti
This year, we celebrated Jürgen's birthday at Playa Forti. I wouldn't be so crass as to reveal how old he was turning, but please let me reiterate that this birthday celebration was at Playa Forti. It was a wonderful spot to spend the morning, swim, snorkel… and to mourn the loss of fleeting youth.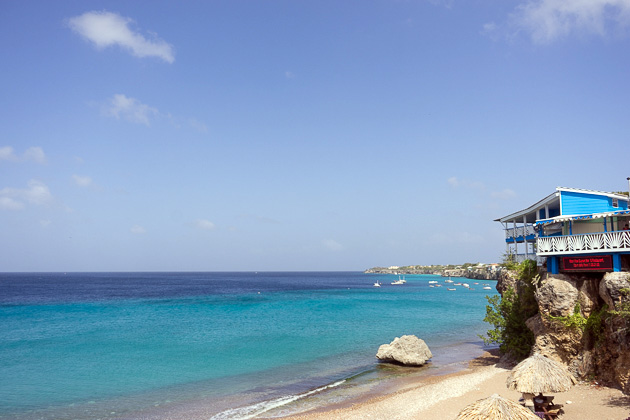 Almost immediately, Playa Forti worked its way into the top echelon of our favorite beaches on Curaçao. It has everything: beautiful rocky surroundings, glorious solitude, calm water, soft sand and excellent snorkeling. While in the water, we saw sea turtles, puffer fish and huge schools hiding in rocks along the shore. Forti is right next to Playa Piskado, and the snorkeling is similar. You can easily swim between the two.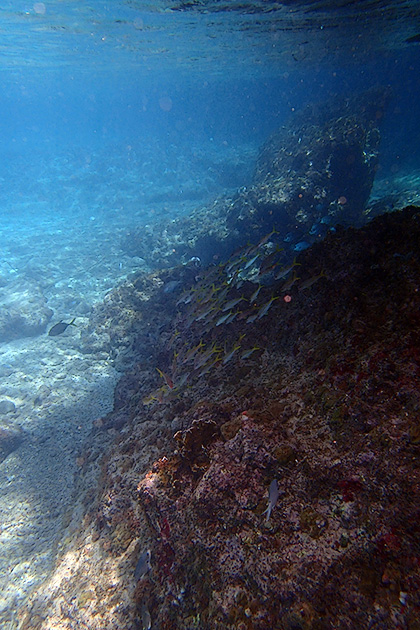 But even more than the swimming, we loved the beach itself. You park at the top of a cliff which overlooks the scene, and then walk down a set of stairs to the sand. The beach is large and continues past an outcrop of the cliff which meets the water. We set up our towels on the other side of this rocky formation… there was a single palapa, which we claimed, and no other people. It couldn't have been more perfect.
I don't think we're ever going to make a final decision as to our favorite beach on Curaçao, but Playa Forti would definitely be in the running. It doesn't seem to be as popular as the Knip beaches, or nearby Playa Kalki; I'm not sure why. If you're looking for an enjoyable, uncrowded day at the beach, definitely check out Playa Forti. Even if it's not your birthday.
–Buy Your Underwater Camera Online