The Coastal Walk from Otrobanda to Piscadera
A popular walking path connects the neighborhood of Otrobanda to Piscadera, up the coast to the north. We regularly drive by this path, and always see people walking their dogs or jogging on it. So we decided to join them on an otherwise lazy Saturday afternoon, for a much-needed spot of exercise.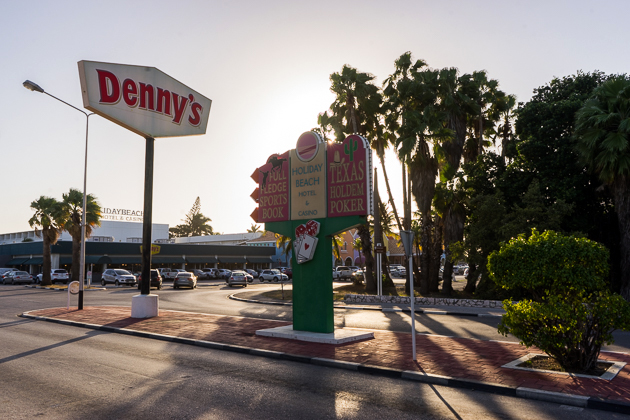 We started walking from our house in Otrobanda, but the real "beginning" of this path is just past Holiday Beach. For awhile, every time we saw this hotel-casino complex, Jürgen would say, "There's Denise," or "Why is Denise here?" I let it go at first, because it was cute, but eventually I had to correct his pronunciation. "That's Denny's." But he was right — what is Denny's doing here? It seems strange.
In order to make a nice loop, we walked toward Piscadera on the main boulevard. This wasn't as pleasant as the coastal path, because of the heavy traffic and the oppressive stench of sewage. Just past Holiday Beach, there's a small mangrove forest, which seems to be fertilized straight from the toilets of Otrobanda.
We sped past the poop-munching mangroves as swiftly as possible and proceeded on to Piscadera, where the path turned back south and toward the coast. Away from traffic, this is where our walk started to be enjoyable. The long, sandy beach here, Playa Parasasa, appears to be a secret tip hidden in plain sight; it's in a perfect position for sunset and popular with locals. We made a mental note to return one evening for swimming.
As we walked south, we came upon Aqualectra's decommissioned Mundu Nobo desalination plant, which opened back in 1948, and looks its age. Despite a low average rainfall and almost no fresh groundwater to speak of, Curaçao is renowned for the excellent quality of its tap water. A number of plants around the island distill salt water straight from the ocean, making it safe (and delicious) to drink. Along with Aruba, Curaçao was home to the world's first commercial desalination plants.
Across from the plant, ranged along the waterfront, are a number of rickety fisherman shacks. This is a lively area, with men and women outside working on their nets and boats, or cleaning fish which has just been brought in from the sea. In a couple weeks, we would be returning to this spot for both scuba diving, and lunch at an incredible seafood joint.
The path ends up at a small park dedicated to the black struggle for freedom, with a large sculpture of hands breaking the chains which had bound them. We were fatigued, and didn't spend much time in the park. This had been a long, but entertaining walk; I would recommend starting from Holiday Beach, and perhaps just doing the coastal section; you're not missing much by skipping the boulevard.
Locations on our Map: Holiday Beach | Playa Parasasa | Mundu Nobo Desalination Plant