The Horse Parade in Otrobanda
After the Tumba Festival comes to a close, the next event on Curaçao's crowded Carnival calendar is the Horse Parade, which takes place along Breedestraat in Otrobanda. Is there a better way to spend a Sunday afternoon, than watching harlequin-costumed men and women ride horses? Well, of course there is… but this will do in a pinch.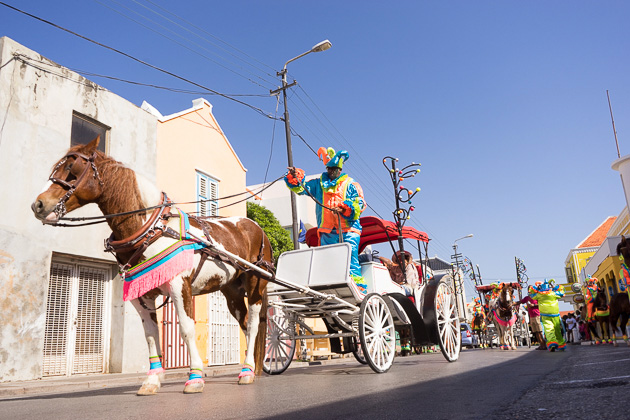 The Horse Parade invites groups representing ranches all across the island to gather in the capital, and march along Breedestraat, which is part of the regular parade route during Carnival. The participants put on silly, colorful costumes, and also dress their horses up. And of course, since this is an event in Curaçao, you can expect there to be loud music and plenty of drinking.
This is a small-scale parade, with no more than a dozen participating groups, and it passes by in the blink of an eye. Perhaps it's best thought of as an entertaining hors-d'oeurve to the main course of Carnival. Unless you're really into horses, it'd be hard to recommend cancelling other Sunday plans just to see this parade, but if you already happen to be in Otrobanda, it's worth checking out.
The fun gets started around 3pm. A good place to stand is near the Netto Bar on Breedestraat, from where you'll be able to see the entire procession, and buy yourself a drink while you wait.
Location on our Map: Netto Bar