The Grand Farewell Parade of Carnival
I don't know where these guys get the energy from. Just two days after completing the Grand Parade, an alcohol- and Tumba-fueled procession which lasts over nine hours, they're back out on the streets dancing and partying for Carnival's Grand Farewell Parade. I was nearly unable to endure it, myself, and that was as a spectator!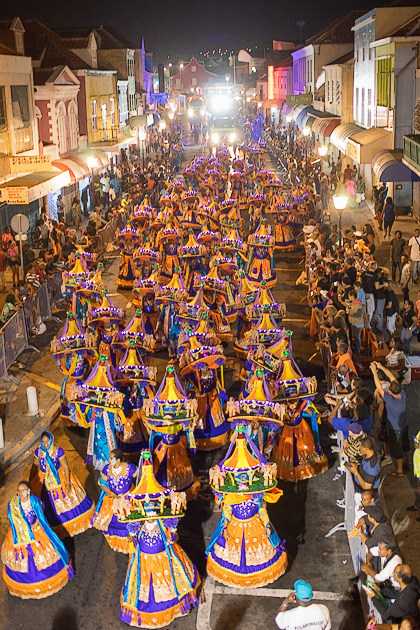 If you've already seen the Grand Parade, the Grand Farewell Parade doesn't hold a lot of surprises in store. It's the same route, the same music, and the same groups marching in the same order. The differences are that it's night, and that most of the participants have embellished their already-extravagant outfits with colorful lights. As the marchers shimmy down the street to beat of the drum, their sequined costumes shimmer underneath the glare of powerful lamps.
The parade begins at 5pm in the neighborhood of Santa Maria, but doesn't reach Otrobanda until 10:30 at night. We went out to watch the parade at around 11pm. By this point, most of the guys and girls in the parade must have been ready to collapse, and although they did their best to hide it, the energy level wasn't quite as high as it had been during the first parade. But they'd been marching for about eighteen total hours within two days! The fact that they could even stand was amazing.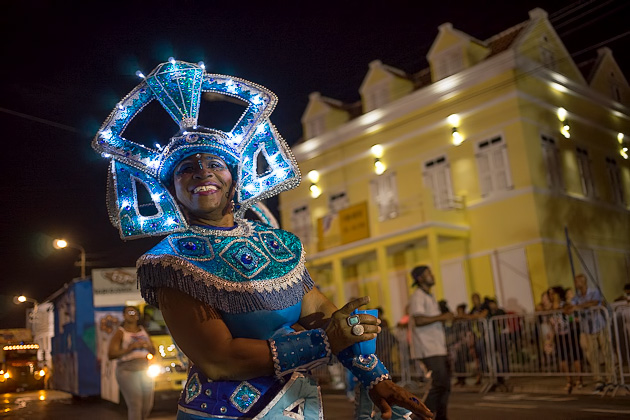 Throughout Carnival, the figure of King Momo has been front and center. A larger-than-life papier-mâché figure, King Momo "presides" over the festivities, allowing his subjects to drink, dance and have a good time. He represents mischievousness and debauchery… but while it's good to cut loose occasionally, you shouldn't indulge such desires all of the time. So at the end of the Farewell Parade, King Momo is burnt, and the fireworks which were packed inside his body are sent shooting into the air.
We loved the Carnival celebrations; it's not every day you get to see such a luminous display of joy. If nothing else, this festival has reminded me how cathartic it is to get wild, every once in awhile. But now that King Momo was dead, it was time to return to life as normal. Thanks for the party, Curaçao! It was fun while it lasted.