In the Air with Blue Skies Helicopters
We've been up in a Cessna, floated in a hot-air balloon, and even tried out paragliding, but neither Jürgen nor I had ever been in a helicopter. With colorful towns and diverse nature packed into a small area and framed by clear Caribbean waters, Curaçao is a perfect candidate for a helicopter tour. So we were thrilled when Blue Skies invited us on a trip around the island's eastern coast.
Update: We've been notified that Blue Skies has ceased operations in Curacao. But please enjoy our pictures from the air!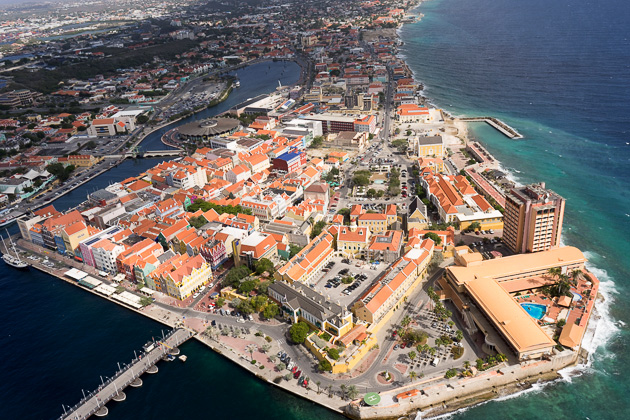 Based in Otrobanda on the Saint Anna Bay, Blue Skies is the island's only helicopter tourism company, and their chopper is a familiar sight in the skies of Curaçao, easy to recognize with its bright blue body. They've been in operation since 2007, and offer a number of different tours in a Bel 206 Jetranger (which, according to their website, is the safest chopper in the world).
Looking over the map in their office, they showed us the route we'd be taking, over Spanish Waters and the Eastpoint, before returning over Punda. Sounded good to us, but it was hard to concentrate since my mind was on a hyperactive loop. "Chopper chopper chopper," as though I was five-years-old again. I just couldn't wait to get inside the thing and get going!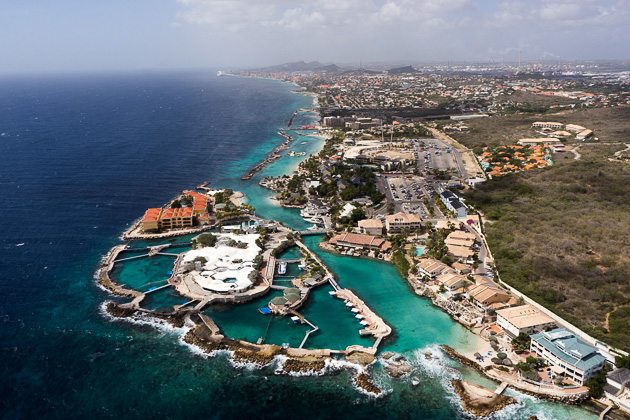 Lifting off was strange at first; this is a totally different experience to flying in an airplane, but we adjusted quickly. The tour was perfect. The entire southeastern section of Curaçao, a huge swath of land known as Oostpunt, is private property. The owner has steadfastly resisted selling it off, prohibiting access to practically everyone. The result is a pristine, untouched natural environment, and one of the few ways to see it is from the air. We flew high above the region, and then came down low to inspect some of the highlights. Once, hovering just a few meters above a large lagoon, we saw a turtle swimming along, unconcerned about the giant machine whirring above its head.
Jürgen was in a state of photography panic. As we coasted over Punda and Otrobanda, it looked as though he had eight arms and four cameras, so fast was he turning from side to side to snap pictures. There's nothing like taking pictures from the air, and the helicopter permits a freedom of movement not possible in an airplane; our pilot was able to hover, circle a specific target, and lower or raise, depending on what we were trying to shoot.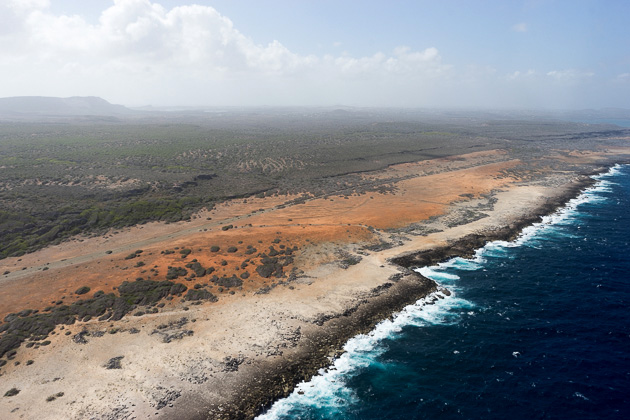 The tour was everything we could have possibly hoped for, and we had fun with the team behind Blue Skies, who were very friendly. It's a shame that they're no longer in operation, but I'm sure that other helicoptering opportunities will take their place.