Curaçao is split roughly into two sections: Banda Ariba is the lower, southeastern side of the island, where Willemstad is. And Banda Abou is the more remote, northwestern end. Most of the people live in Banda Ariba, but Curaçao's most popular natural beaches are found in Banda Abou. One of these is Playa Kalki.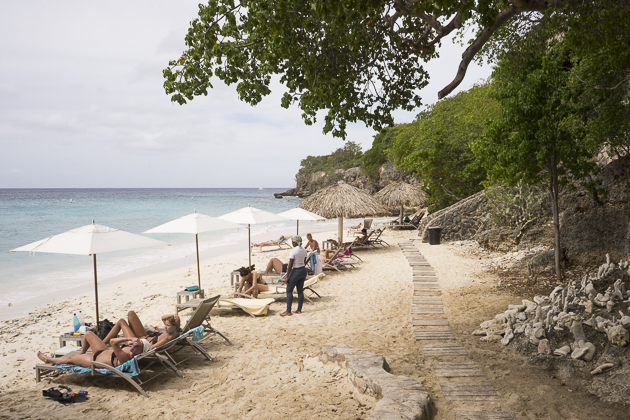 After having visited the hostile, lava-stone landscape of Watamula, we decided to spend the rest of the afternoon at nearby Playa Kalki, which proved to be decidedly more comfortable terrain.
A set of steps leads down from the parking lot to the beach. Kalki is famed as one of Curaçao's best diving sites, with otherworldly coral formations that have led it to be called "Alice in Wonderland." The beach is smaller than nearby Grote Knip and more developed, due largely to the presence of the Kula Hulanda Resort on the cliffs above.
The first time we went snorkeling at Playa Kalki, we left disappointed, having seen nothing particularly stunning. But we simply swam in the wrong direction. On our second trip to Kalki, we went to the right, underneath the rope and alongside the cliffs, and found an unforgettable underwater seascape. Hundreds of fish and huge coral formations which might have been born in Lewis Carrol's imagination — now we understood why it's called Alice in Wonderland!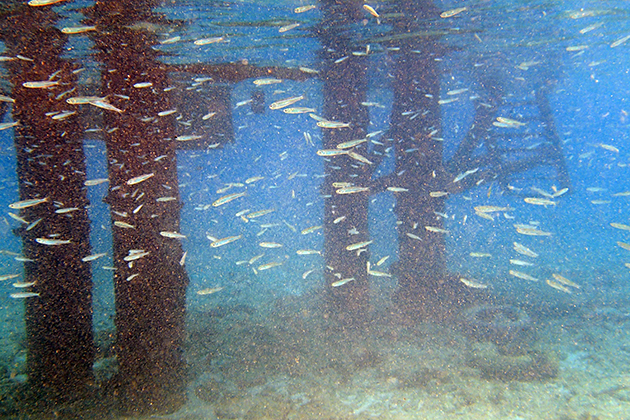 After swimming, you might want to stay on Playa Kalki all day long… although that will depend upon the people around you. This beach is small, and can get very crowded, thanks to the adjacent lodge. Our first time there, a group of American girls stationed themselves next to us, and started blasting Adele out of their portable speaker. "I literally love this song to death. Oh my god, those two guys are totally staring at us. They think we're, like, so hot." No, girls, we don't think you're hot. This is a look of annoyance. We want to strangle you, and not in a sexy way.
But we shouldn't knock Playa Kalki for the presence of obnoxious tourists; that can happen anywhere. Overall, the beach is lovely, and the snorkeling is some of the best on the island. There are plenty of chairs and shade, a dive shop. There's also a restaurant, although we recommend packing your own lunch, as both the food and the service are substandard.