An Underwater Paradise at Directorsbaai
We were overwhelmed by the beauty of the underwater world we discovered at Directorsbaai. Pristine coral just a couple feet below the surface and legions of fish oblivious to our presence… if there's better snorkeling anywhere on Curaçao, I'd be surprised. In fact, if there's better snorkeling anywhere in the world, let us know. So far, Directorsbaai is about the best we've seen.
But you have to work for it. Directorsbaai is a lonely, deserted beach on the southern end of the Caracasbaai Peninsula. If you're at all familiar with life on Curaçao, you'll know that "lonely and deserted" means "popular with thieves." When talking about our plans to snorkel at Directorsbaai, we were warned repeatedly not to leave anything on the beach there, nor to leave the car untended.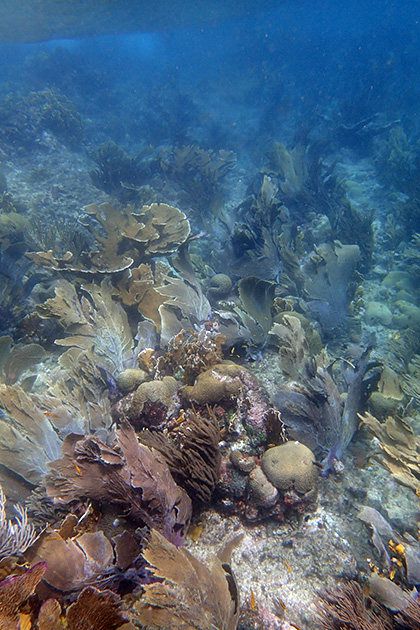 "What you should do," a friend of ours said, "is snorkel all the way from Directorsbaai to Tugboat Beach." Sounded like a good idea, so we forced him to come along, which would allow us to take shifts. First, I dropped Jürgen and him off at Directorsbaai, waited until they were in the water, and then drove myself over to Tugboat Beach. Twenty minutes later, they were stepping out of the water with grins so large, I knew the trip had been a success. And I could hardly wait for my turn.
This short snorkeling tour starts off scary; at Directorsbaai, the drop-off into the deep ocean is close to shore, and it's terrifying to suddenly be hovering over water so deep you can't possibly see the bottom. Also, you have to swim around a rocky outcrop popular with fishermen before getting to the good stuff. But once you're past that, the rest is paradise. I've never seen such a beautiful underwater landscape, and when the sun is shining, the scene is unbelievable.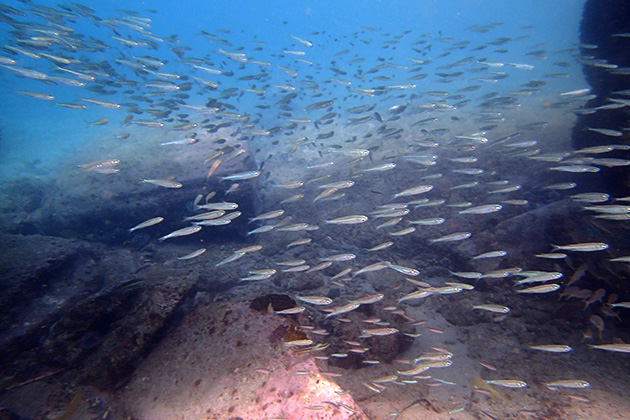 The swim to Tugboat Beach goes faster than I had expected. At a steady pace, I could've done it in fifteen minutes. But there's so much to see, you'll want to linger. I spotted puffer fish, angel fish, trumpet fish half a meter long and a barracuda, among hundreds of other species. And the coral stays in good shape all the way to the sunken tugboat itself.
It takes a little planning and coordination, but this self-guided snorkel tour is easy enough, and so memorable that it's worth the effort. Just remember not to leave anything unguarded at Directorsbaai… or anywhere on the island, for that matter.
Locations on our Map: Directorsbaai | Tugboat Beach
–Great Selection Of Underwater Cameras