Playa Jeremi
Crystal blue waters, soft white sand, a laid-back atmosphere in a gorgeous natural environment… you know, it feels like I've been using this description a lot, doesn't it? It's getting boring. Come on, Curaçao! Why don't you surprise us with an ugly beach?! Actually, on second thought, scratch that. Just keep the beauty coming and we'll try not to complain. Next up: Playa Jeremi.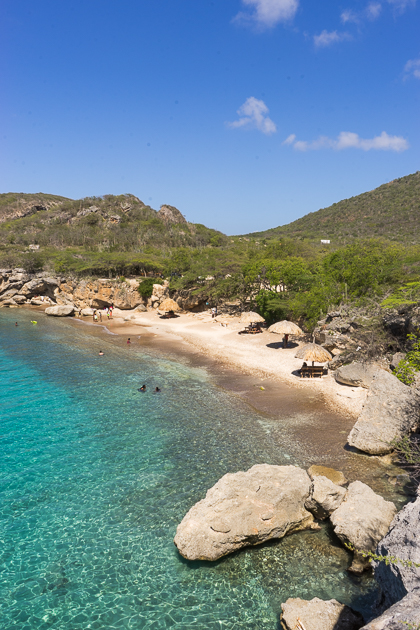 Playa Jeremi is a medium-sized beach, just north past Lagun, perfect for when you want to be mostly left alone. There are a few palapas and a couple picnic tables. No lounge chairs, no beach bars. It's moderately popular; rarely empty but almost never crowded. There are cliffs on either side of the blue water (which local kids often jump from), and the beach itself is both simple and beautiful.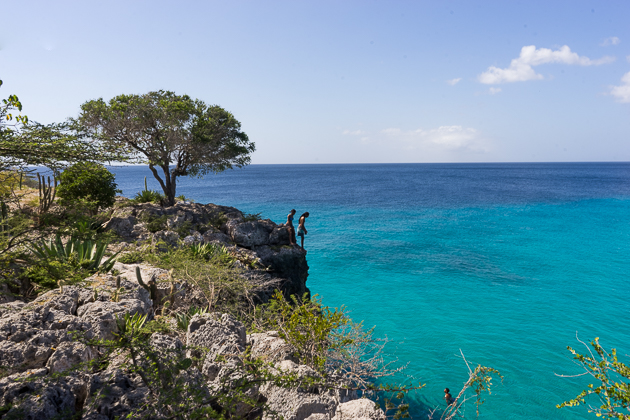 What else can I say? The snorkeling here is not magnificent — but that hardly even qualifies as a negative. After all, Playa Jeremi feels more like a place for hanging out with your friends and relaxing, and not so much for activities. Bring your own cooler with refreshments and snacks, and come for sunset; Jeremi is perfectly situated, facing west.
By the end of our time here, we're going to be able to match each of Curaçao's beaches to our current mood. Mambo for when we want to party, Santa Pretu for when we're introspective, Knip when we want to have fun… and maybe Jeremi for when we want to do nothing but chill and simply enjoy being alive.