Fine Dining at Fort Nassau
Of all Curaçao's former Dutch fortresses, our favorite was destined to be Fort Nassau. Fort Amsterdam might have the most fascinating history and Fort Beekenburg the coolest atmosphere… but Fort Nassau has the food nailed down. And food beats history or atmosphere every time.
During the 17th and 18th centuries, when the Dutch were busy extending their tendrils across the globe, a number of forts named Nassau were established to protect their new properties. You could find a Fort Nassau in the Bahamas, New York, New Jersey, Indonesia, Senegal, Ghana and Guyana, all of them named for the House of Orange-Nassau, an influential Dutch dynasty. In 1797, Curaçao got its own Fort Nassau, on the point where the Saint Anna Bay empties into the Schottegat Harbor.
Fort Nassau was taken over for a brief period by the British, but never came under serious attack, so it's been able to remain in marvelous condition. In 1959, a restaurant was established in the old fortress, and ever since, Fort Nassau has been Curaçao's most celebrated place to eat. For Jürgen's birthday dinner, it was the only real choice.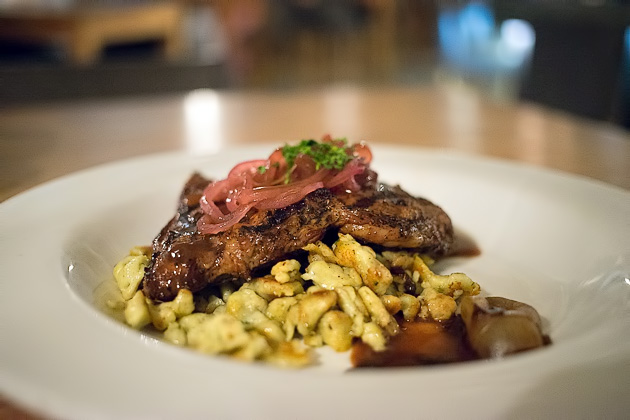 Set high on a hill, the views from Fort Nassau are incredible, especially at night with the lights (and flames) of the Isla Oil Refinery off toward the north, and Punda laid out to the south. Almost anywhere you sit inside the restaurant, you're guaranteed an excellent panoramic view.
However, you might have trouble taking your eyes off your plates, because the food in Fort Nassau is mouth-watering. The dinner menu includes an appetizer, a main course and dessert. And while it's not cheap, neither is it overly expensive, considering the quality of the dishes and the generous portions. We both took the steak, and were left very satisfied.
If you only have time and money for one fine dining experience in Curaçao, rest assured that Fort Nassau makes a great choice. Often, these "most famous" restaurants don't live up to the hype, but Fort Nassau was as good as we had hoped, with top-notch views, food, and service.