Grote Knip – Our First Beach in Curaçao
We pulled our car into the parking lot and, for a few stunned seconds, sat in silence. We had found the perfect beach. The one which your optimistic mind envisions whenever you set off for the ocean. But Grote Knip was the very first beach we were visiting in Curaçao! Was it just luck we had already found the best one? Or… we allowed ourselves to hope… would all the island's beaches be this spectacular?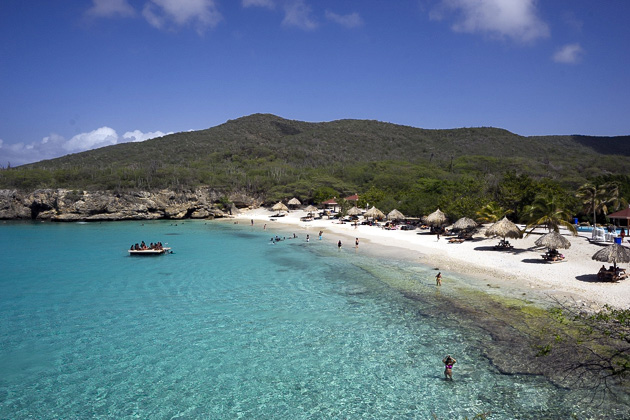 Grote Knip is found on the northwestern tip of Curaçao, near the Knip Landhuis and a smaller beach called Kleine Knip. It's one of Curaçao's most popular places, and we were visiting on a sunny Saturday afternoon, but even so, it wasn't very crowded. We grabbed lounge chairs, set ourselves up in the shade of a tree, and leaned back to appreciate the Caribbean beauty.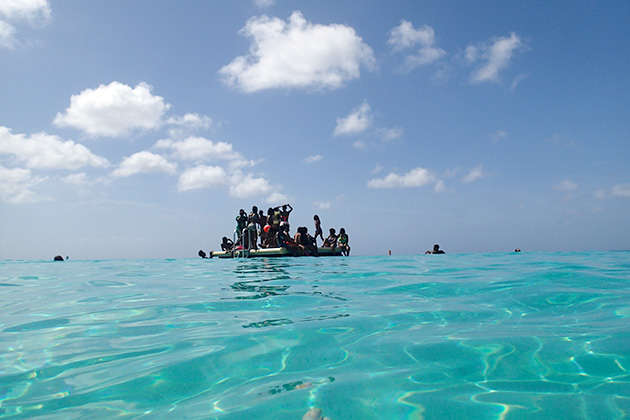 There was an appealing mix of people around us, most of them locals. Dozens of crazy teenagers were crammed onto a floating dock in the middle of the bay, and were hard at work singing, dancing, laughing and throwing each other into the water. The foreigners at the beach, like the foreigners all over Curaçao, were almost entirely Dutch. I got the sense that a lot of them live here at least on a semi-permanent basis, as most of them were grilling. Tourists generally aren't equipped to grill.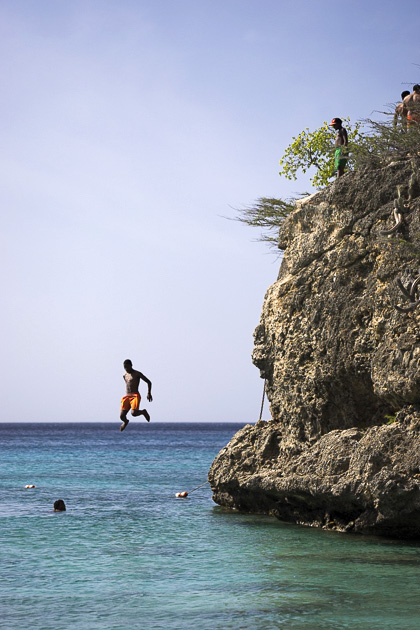 Grote Knip is set within a cove, protected by rocky cliffs from which the more daring kids will occasionally leap. I considered joining in, but was spooked by how shallow the water seemed. It was probably an illusion, because of the water's astounding clarity, but I wasn't about to risk my life on that theory.
There's a small snack shop on the beach, which serves basic grub like hamburgers and fries, and you have to rent the chairs for a reasonable price, but otherwise the beach is free to use. Our original plan was to just stay for an hour, and then check out Kleine Knip… but we soon decided that Kleine Knip could wait for another day. We were in no hurry to leave the perfect beach.
–Buy Your Snorkel Set Before You Leave For Curacao