Fort St. Michiel and Boka Sami
After visiting Boka Sami and the dilapidated Fort St. Michiel, we found a trail which led up the hill and along the cliffs to Vaersenbaai, home to Kokomo Beach. A short, mildly strenuous walk through the woods, followed by views over the Caribbean, and then cooling off in clear blue waters? Sigh, if only all our hikes were like this!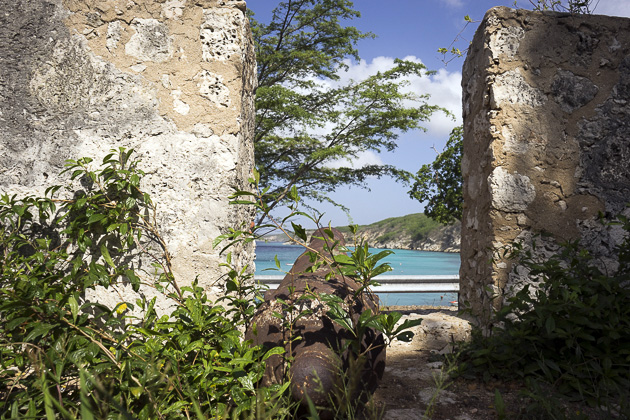 The trail begins at Boka Sami, where you crossing a small footbridge spanning the inlet which feeds into St. Michiel's Bay. There's an excellent hike which leads around this lagoon, where you can almost always see flamingos, but that would be for another day; today we were going up into the hills.
The great majority of the trail is uphill through a dense forest. The path is well-worn, so there's no need to worry about getting lost, but it feels almost forgotten. The only other living being we saw on the trail was a white-tailed deer, far up ahead of us; it spotted us immediately and darted off into the woods before we could get a picture.
Soon enough, the trail reached the coast, giving us a view from the clifftops over the Caribbean's crystalline waters. We walked along the rocks, discovering the paltry remains of Fort Vaersenbaai, which once protected the bay, and rested at a picnic table which has been set up for people to enjoy the panorama.
We now descended to the beach, where we spent the rest of the day swimming, snorkeling, laying out and eating at Kokomo Beach's restaurant. On the advice of Anton from Scubaçao, we ordered the nachos. It was a huge plate, for an incredible price. As we were eating, a pair of fearless iguanas inched along the railing, ever closer to our table, before finally walking straight onto it. Who knew iguanas craved nachos?
We had left our car at Boka Sami, so after lazing about and stuffing ourselves, we had to hike back on the same path we'd come by. No problem; it's just a couple kilometers long, and helped us digest all those nachos. Overall, this had been an easy, trouble-free excursion, perfect for anyone who likes to combine beach days with a little exercise and nature.
Locations on our Map: Fort St. Michiel | Boka Sami
–Find the cheapest car rentals for Curacao here