Playa Cas Abou
A large, full-service beach between Playa Porto Mari and the beaches of San Juan, Playa Cas Abou is not a recommended destination when you feel like getting away from it all. But if you want an easy day on the sand, with food and drinks readily available, you could certainly do worse.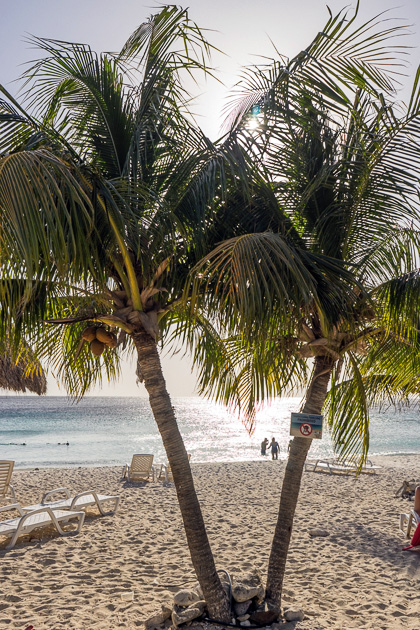 Cas Abou is yet another of Curaçao's unfairly beautiful beaches. This long stretch of sand, with palm trees and crystal clear waters draws equal numbers of locals and tourists. You can walk right into the sea without worrying about hurting your feet on dead coral, and the sand is soft and comfortable. All the services you might expect can be found here, including a dive shop and a massage hut located right against the water.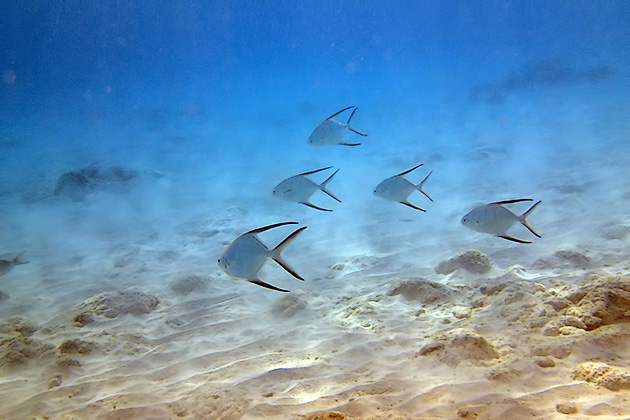 Perhaps the only problem with Cas Abou is that it's too nice, and attracts too many people. We visited twice, and both times had problems finding shade; there are no umbrellas, so everyone competes for the few areas protected by palm trees. The afternoon hours can get hot, and we even saw people laying right up against the side of the massage hut, trying to get into its shadow.
But if you don't mind the sun, no problem. This is the kind of beach you'll be happy to spend all day at. The entrance costs a little, as do the lounge chairs, but it's not expensive, and you're free to bring your own drinks and snacks.
–We Used This Camera For the Underwater Photos