After scratching wounds into our arms and legs during a prickly hike that started at the parking lot of Playa Porto Mari, we returned eagerly to the beach. Soft white sand, cool blue water, and incredible reefs for snorkeling… if this were always the reward, I would go hiking every day.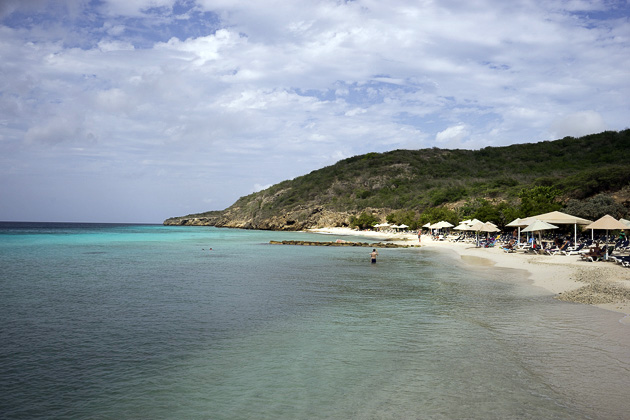 Playa Porto Mari is a large beach near Sint Willibrodrus, with all the conveniences you might want or expect, including a dive shop, a bar/restaurant, lockers, showers and bathrooms. We usually prefer beaches that are less developed, such as nearby Daaibooi Beach, but after the hike we had just endured, we didn't mind the convenient comforts at all.
The beach is of fine white sand, and overlooks a gorgeous natural bay. The Dutch had protected the Portmaribaai with a fort atop Seru Kabayé, a hill south of the bay, but it was captured and destroyed by the English during their 1805 invasion of Curaçao. I'm not sure if there are remains of the fort, but we weren't about to climb the hill and check. Not today, anyway.
The Plantation Porto Mari was a big one, dedicated to livestock and produce, and it had over 200 slaves before the 1863 emancipation. Today, most of the former plantation grounds have been returned to nature.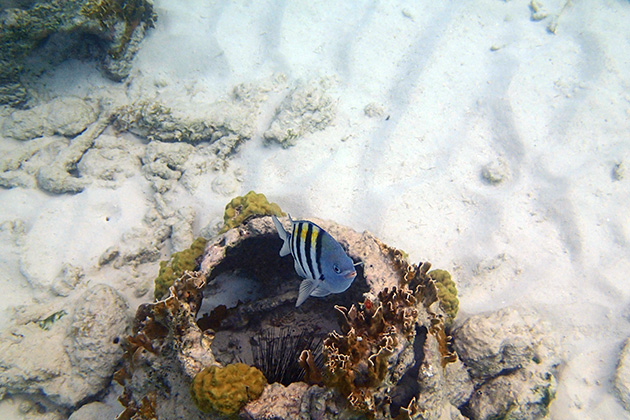 Porto Mari prides itself on its natural double reef, and the snorkeling here is fantastic. We spent nearly an hour kicking around, spotting hundreds of fish. The reef was damaged by a hurricane in 1999, but they've placed artificial "reef balls" on the ocean floor to encourage regrowth. The people in charge here seem to take nature seriously, as well they should. The restaurant might be great, and the lounge chairs comfortable, but visitors come to Playa Porto Mari primarily for the unspoiled nature.