A Surf Championship at Playa Kanoa
Playa Kanoa, on the windward side of Curaçao, isn't what comes to mind when you think "idyllic Caribbean beach." Like the rest of the eastern coast, it's subject to strong winds and rough water. But although big, consistent waves make swimming more difficult, I can think of at least one thing they're good for. Surf's on!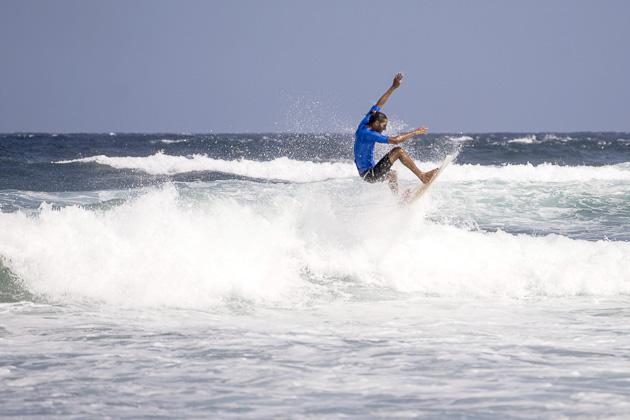 We visited Playa Kanoa during the island's annual Surfing Championship, which is held in December. There was quite a crowd on hand to cheer on the amateur athletes as they braved the waves, and we grabbed seats atop a pair of wooden pallets that someone had thoughtfully set up along the jagged rocks of the shore.
Before arriving, we had been warned that "Curaçao ain't Hawaii," so not to expect anything major at the surfing championships. Indeed, the waves weren't all that epic, but they were big enough for the better surfers in the competition to execute some cool tricks. With its steady, non-lethal waves, Playa Kanoa looks like a good place to learn the sport.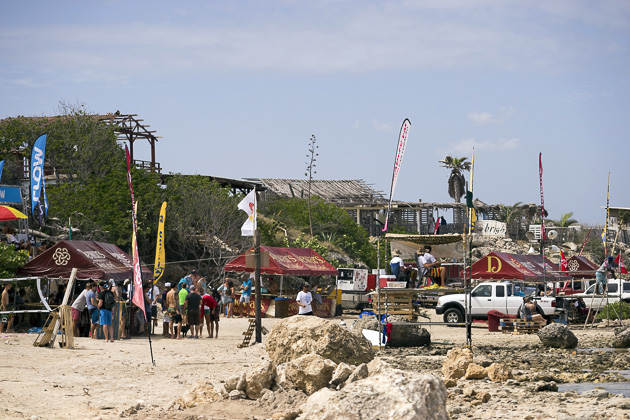 We stayed at the tournament for about an hour, our attention split equally between the surfers riding high on the waves, the surfers stripping down on the shore (hey, surfers tend to be good-looking), and a hilarious French Bulldog causing chaos among the competitors and the audience. We were able to watch both the men and women's categories, and also see a group of body-boarders hit the waves.
Further down the shore from the competition, we found a small inlet which is naturally protected from the waves. Here, kids were playing in the water and a few people were laying out on the sand. It's in no way comparable to the beautiful beaches of the island's western side, but looked like a nice place to hang out.