A Hike Around Patrick
Between the town of Barber and the eastern coast of Curaçao lies a swath of land known as Patrick, named after a plantation house which used to sit roughly in its center. Rugged, isolated and mostly flat, this is a popular area for ATV tours, but you can also hike and easily reach the coast where there are a couple of impressive inlets.
The hike begins on a path through the woods. Two minutes in, we encountered a young guy with a machete, walking swiftly towards us. "Keep cool," I told myself. "There's got to be a rational explanation that doesn't involve bloodshed." And sure enough, after a cheerful "bon dia," he took a side path leading to a field of palm trees. A coconut collector, not a murderer. And a reminder that Curaçao is a country where people might have legitimate reasons for walking around with machetes.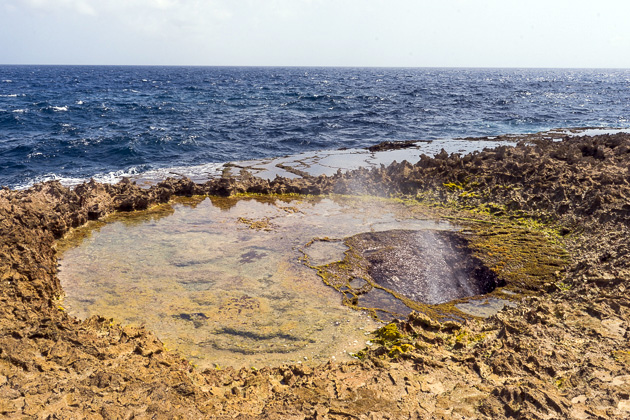 The path was easy enough to follow and led us directly to the coast, where we found a strange geological formation called the Suplado. Like a younger sibling to the larger "Eye of Curaçao" at Watamula, this is a round hole not far from the coast, through which the churning ocean is visible. We've heard this spot referred to as a "natural jacuzzi," since you can apparently bathe in the shallow pools which surround it. But this looked as though it would have been dangerous, and we were content to stay dry.
On either side of the Suplado are a pair of interesting bokas, or inlets. To the north is Boka Santu Pretu, most remarkable for its darkened sand and rough waves. We paused here for a packed lunch, and then continued south to Boka Patrick.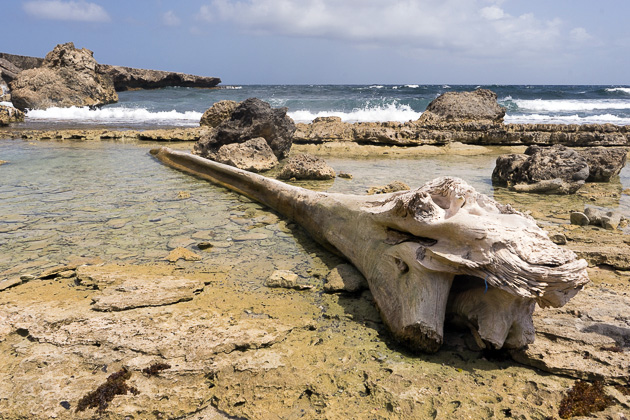 Boka Patrick is a large inlet with a wide, sandy beach strewn with petrified wood and plastic. It's a shame how much of Curaçao's eastern coastline is inundated with trash. I don't know if these are places too infrequently visited to bother with clean-up crews, or if there's simply too much trash to keep up with, but the heaping mounds of old shoes and tires are a real turn-off. Still, we liked Boka Patrick for its extreme natural beauty and solitude; it's amazing that such a place could be completely off-the-radar for both tourists and locals.
The path back to our car led us around a hill called the Seru Kosta, and toward heavier vegetation. The final quarter of the hike was the most difficult, as we entered the woods and lost the trail a couple times. But it became interesting when we passed the ruins of the old Patrick plantation house, spotting a well and what looked to be the walls of an old reservoir.
We'd miss the beaches, for sure, but we also enjoyed these peeks into Curaçao's less-heralded side. This is an island of striking contrasts, which you won't see unless you embark on hikes like the one we experienced at Patrick.
Locations on our Map: Suplado | Boka Santu Pretu | Boka Patrick
Our Route on Wikiloc
–Rent Your Jeep For Curacao Here