A Tour of the Schottegat Harbor
Curaçao's fortunes have long been tied to the Schottegat, the remarkable natural harbor around which Willemstad was built. It's the largest harbor in the Caribbean and, behind Rotterdam, the second-largest in the Kingdom of the Netherlands. And it's allowed the island to become a great center of trade. Since 1915, the Schottegat has been home to Curaçao's Isla Oil Refinery. We took the ferry tour of the harbor offered by the Maritime Museum (Update Dec 2022: the museum unfortunately no longer offers this tour).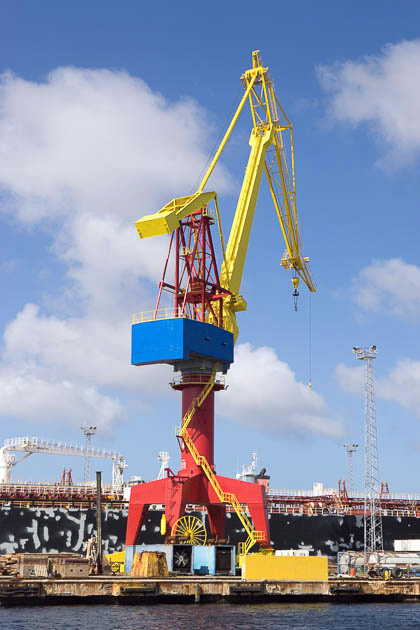 After our boat set sail from Saint Anna Bay and entered into the harbor, the first thing I noticed was the its sheer size. From east to west, it's about four kilometers long, and seen from the water, it's a lot bigger than we had realized. The shipping barges which loom so massively as they pass through the Saint Anna look relatively small when anchored in the Schottegat.
This is a side of Willemstad which most people don't get to see, as the harbor is used entirely for commerce and military purposes. There's no water-skiing on the Schottegat, and definitely no swimming. Thanks in large part to the refinery, the water is seriously contaminated and recreation is strictly forbidden.
Our ferry boat went in a counter-clockwise circle around the harbor, first passing Fort Nassau, an old fort which has been converted into an upscale restaurant. We went by Curaçao Scrap, where the island's metal refuse is compacted before being packed onto barges for recycling in other countries. And we saw the headquarters of the Dutch Navy. Curaçao might now be autonomous, but it still depends upon Holland for its defense. Which is good, since the world is terrified of Holland's awesome military might.
My favorite part of the tour came when we sidled up next to a large dry dock, where a barge was currently stationed. The dry dock is a complicated piece of technology, whose need I'd never even considered. How else are you going to paint or repair a giant barge? You can't just drag it onto land! It reminded me that there are entire industries about which I know nothing. We watched the crew paint their ship, and were told that this is something they're required to do around the clock, since the boat is losing money every hour that it isn't sailing.
This harbor tour leaves every Wednesday and Saturday at 2pm from the Maritime Museum. Tickets can be bought for just the boat trip itself, or in combination with entry to the museum. Unless you can get a gig working on one of the barges which are stationed here, this is probably the best way to see the Schottegat.
Location of the Maritime Museum on our Map
Maritime Museum – Website