The Mikvé Israel-Emanuel: The Oldest Synagogue in the Americas
When you think of "Curaçao," you're likely to think of things like "scuba diving," "liquor," "beaches," "cruise ships" and "historic Jewish community." Wait… what was that last one?! It's unexpected, but this little island has the oldest Jewish congregation in the Western Hemisphere, with a history that dates to 1651. And Willemstad's Mikvé Israel-Emanuel is the New World's oldest synagogue.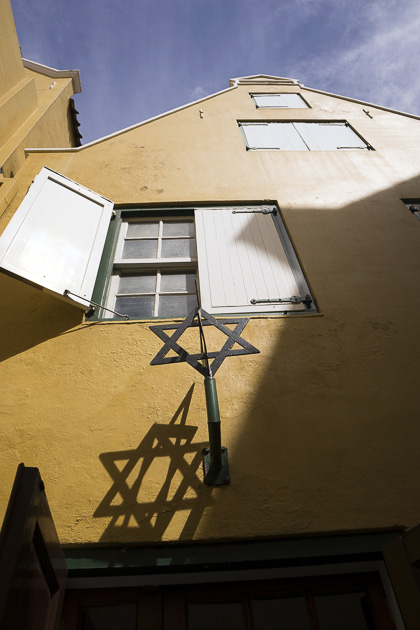 The Netherlands has a long history of religious tolerance. In the 17th century, when most European countries were persecuting and forcing their Jewish populations into ghettos, Dutch Jews had been accepted as skilled members of society, and were flourishing. In fact, they were among the founding members of the Dutch West India Company. In 1651, the firm sent twelve Jewish families to Curaçao, establishing a small but strong presence which has endured into the present day.
Dedicated in 1732, the synagogue is located in Willemstad's historic Punda district, near the Floating Market. After passing through the gate, which welcomes visitors with a Hebrew sign that says, "Blessed May You Be in Your Coming," you arrive in a small courtyard with access to a gift shop, a two-story museum and the synagogue, which is referred to as the "Snoa."
I'd bet money that the first thing everyone notices on entering the Snoa aren't the walls, the doors or the furnishings… but the sand-covered floor. This is done as a tribute to the Tabernacle; the holy structure which wandering Jews once carried through the Sinai desert. It's also a nod to the days of the Spanish Inquisition, when worshipers would cover the floors of their synagogues in sand to muffle the sounds from outsiders. Here in Curaçao, the sand made us think of the beach… and I can imagine we've shared this association with many frustrated kids whose parents have yet again dragged them to worship.
The interior decoration in the Snoa is mostly carved from red mahogany, and there's a nice breeze which runs through the room. We stayed for awhile, wanting to get our money's worth (entrance to the Mikvé-Emanuel is $10 per person), and then moved on to the museum, housed in the former Rabbi's residence. Here, we found shofars (horns which were used to call people to prayer), ancient scrolls and haggadah, dishes and plates, and a silver hanukkiah dating from 1716, which is still in use.
If you're Jewish, the Mikvé Israel-Emanuel is a must-see, but it's fascinating for others, too. Jürgen and I barely know a bar mitzvah from a brit milah, but we enjoyed our visit. It's amazing that the oldest community of Jewish people anywhere on this half of the planet is on this tiny island in the Caribbean. I think they picked a good home.
Mikvé Israel-Emanuel Synagogue – Website