Ayo, Dushi Kòrsou!
Coming on the heels of one of the most difficult years we've ever endured, Jürgen and I had been desperate for a relaxing and stress-free 91 days. With its chilled-out atmosphere, low-adrenaline activities, friendly people, comforting cuisine, and an infectiously fun culture and all packed into one, small, easily manageable island, Curaçao was exactly what we needed. We couldn't have made a better choice.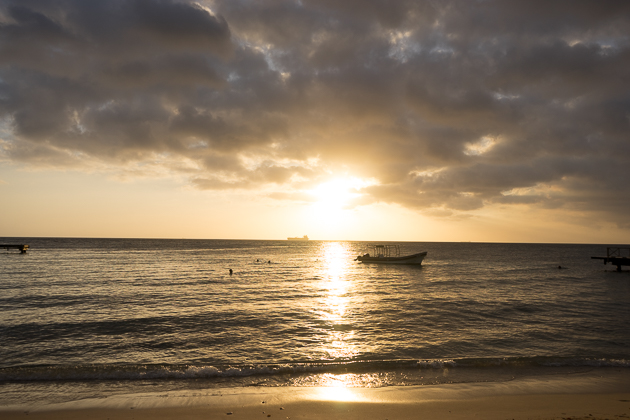 It was the beaches that first won our hearts. Soon after arriving, we drove to the northern tip of the island and laid our eyes upon Grote Knip — it was as though someone had plugged a USB cable into my brain, ordered me to concentrate on the phrase "Caribbean Dream Beach," and had then printed out the mental image. And as our time on Curaçao progressed, we would find plenty of other beaches that were just as good, or even better. In the foreseeable future, when I feel stress setting in, I'll just close my eyes and repeat the mantra, "Knip. Forti. Daaiboi. Hunku." Take me back to the Caribbean!
But one can only enjoy so much beach time before one starts to get restless. Luckily, this island offers a number of other activities, including some excellent hikes. Excellent, but never all that strenuous. Loops around Patrick, St. Michielsbaai and Ascension are both beautiful and simple. Even the island's highest peak, the Christoffelberg, takes no longer than 90 minutes to ascend. Oh Curaçao, even when you're trying to be hardcore, you just can't help yourself. Everything on this island is easy!
I mean that: everything is easy! Try to get along with the locals. Guess what? It's easy. Before the words "Bon dia" have even left your tongue, the person you're talking with has already greeted you in four different languages, and shook your hand, and slapped you on the back, and asked your name. They're so friendly, you don't even have to try.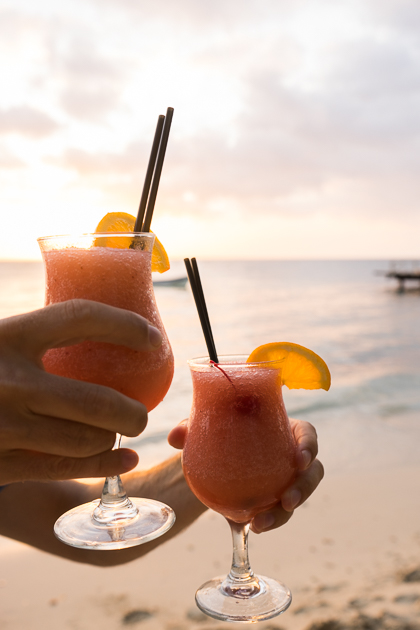 Oh shoot, it's raining. Don't worry, even bad weather in Curaçao is easy. Look again — in the time it's taken to read this sentence, the rain has already stopped. Wait, look again: now the sun has come out. During our time on the island, we had exactly one day of truly bad weather. That's 1 out of 91… during winter. And now you start to understand why everyone's always smiling. They have it good here, and they know it.
Interested in scuba diving? By now, it shouldn't surprise you to learn that scuba diving on Curaçao is easy. All the best sites are accessible from shore, so there's no need to rent a boat, and you never have to dive very deep. Even easier is the snorkeling. Directorsbaai, Tugboat, the Blue Room, Kalki… with no effort at all, you can see some underwater landscapes that you'll never forget.
And then there's the food; easy and familiar dishes like barbecue ribs, meat stews, and fish fried Caribbean-style with herbs and limes. Almost everything we ordered here was delicious, and none of it required any special culinary courage to enjoy. Like we said: easy.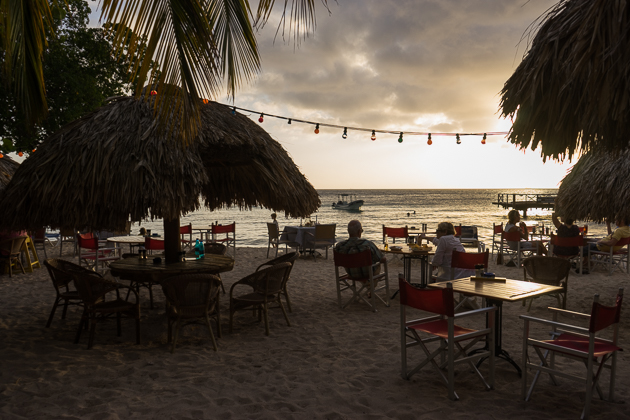 Is Curaçao without problems? Of course not. There's the Isla Refinery and the stinky veneer of smoke it spreads over half the island. There's too much crime, and the driving habits of the people border on the outrageous. But these are problems which most countries suffer from. There's a tendency among tourists to view Curaçao solely as a vacation destination, and to forget that it's a real country… and then be "shocked" when confronted with something dirty or bad. Yes, there are problems here. Just like everywhere.
For us, we'll take a place like Curaçao over any destination whose sole focus is on the comfort of tourists. This is an island with its own vibrant culture — just watching the celebrations of Carnival confirms that! I mean, anyone is welcome to watch these parades and parties, with their all-night dancing and drinking, but they're not meant for the amusement of tourists; Carnival is for the Curaçaoans. And the the island has real history, too, not all of it comfortable. Curaçao was one of the main hubs of the Atlantic slave trade, and much of the current population is descended directly from those who fought, often violently, against the chains which bound them… chains placed by the ancestors of the very tourists who are today so amicably welcomed as guests.
Curaçao is simply an incredible place. It's small but has tremendous depth, with enough culture and experiences for a country ten times its size, and a heart that is simply bursting with warmth. It's impossible to spend time among the people of Curaçao without becoming completely enchanted with them.
Like I said earlier, Curaçao was exactly what we needed. It had been a difficult year for us, with serious measures of personal grief and loss, and we had become disenchanted with certain aspects of life. Turns out that, for us, the best antidote to despondency was to dunk ourselves completely in a culture where life is fully enjoyed, where every day is a gift, where the sun is almost always shining, the water is always warm, your neighbor is always smiling, and everything is wonderfully, gloriously easy.
Thanks for picking us back up, Curaçao. We'll be in your debt for awhile.
–Download our travel books here