Santa Martha and the Abandoned Sunset Waters Resort
Just past the Landhuis Santa Martha, near the town of Soto, is a hilly, forested patch of Curaçao which hasn't yet been developed. More accurately, I should say that it's no longer developed. We followed the road until reaching its end at Sunset Waters, a former resort which has been abandoned for years.
I have no idea why Sunset Waters wasn't able to succeed. It certainly can't be blamed on its beach; this stretch of coastline in northwestern Curaçao is gorgeous. After parking the car, we set out to explore the ruins. The foundation of the old resort is still in decent shape; it was only abandoned in 2009, but the place has been gutted and everything of value removed.
After exploring the resort, we drove down to the beach and parked a few meters from the shore. There's a small bay here, and the clarity of the water is unreal. It's shocking that another beach club or restaurant hasn't yet moved in yet to take advantage of this place. We saw a group of scuba divers getting in the water, as well as a local couple and their dog relaxing on lounge chairs, but otherwise this beach has been seemingly forgotten by Curaçao.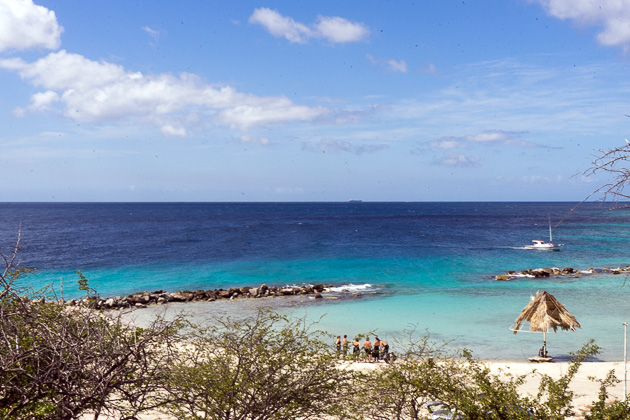 Next, we drove south along the coast and discovered a row of upscale, private villas, each one with a heavy gate and "Protected By" security stickers, owned apparently by rich people who really want to get away from it all. It's a long drive to the next supermarket from here, but I suppose these homeowners can afford for their groceries to be delivered. By helicopter.
We took our time on the drive back to Soto, stopping at a lookout point for a great view over the Santa Martha Bay. The nature here is pristine, the woods thick and the shoreline mostly untouched. And across the bay to the north, we saw nothing but rolling hills and a single plantation house in the distance. We'd be returning soon to the area, for a lengthy hike to Boka Pos Spanjo and Boka Hulu.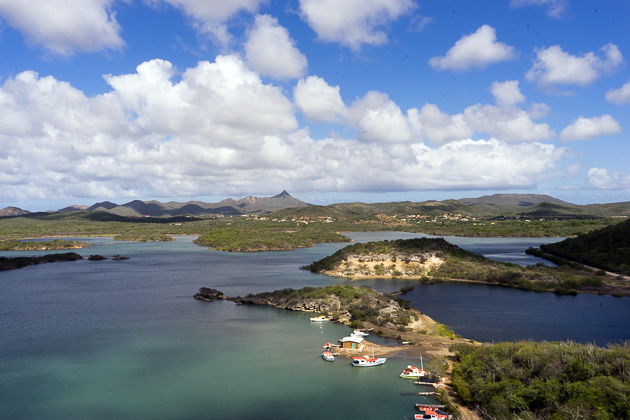 If you've had your fill of overdeveloped resorts and crowded beaches, this section of Curaçao south of the Santa Martha Bay might make a nice excursion. But stay safe; anywhere in Curaçao where there aren't a lot of other people, it pays to be vigilant, and this is certainly one such place.
Locations on our Map: Landhuis Groot Santa Martha | Sunset Waters Abandoned Resort
–Sign Up For Travel Insurance Here