Once you drive past Sint Willibrodrus, you'll arrive at Daaibooi Beach. Although it's privately-owned, Daaibooi has remained free to the public, and boasts a natural, uncommercial vibe. The moment we sat down on the sand, we realized that we had fallen in love with yet another beach on Curaçao.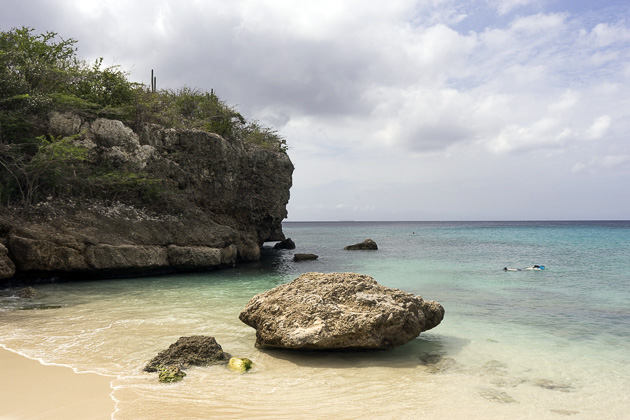 One end of Daaibooi is still reserved for the fishermen of Sint Willibrodrus; it's nice to see that not everything on Curaçao has been given over to tourism. We stationed ourselves under a Manchineel tree, and wondered about the all the warning signs. Later, we would do some research. Manchineel trees produce fruits which look like tiny apples, but are poisonous enough to kill. And the tree's sap is poisonous, as well. In case of rain, it's better to seek alternative shelter; water dripping from this tree can cause blisters.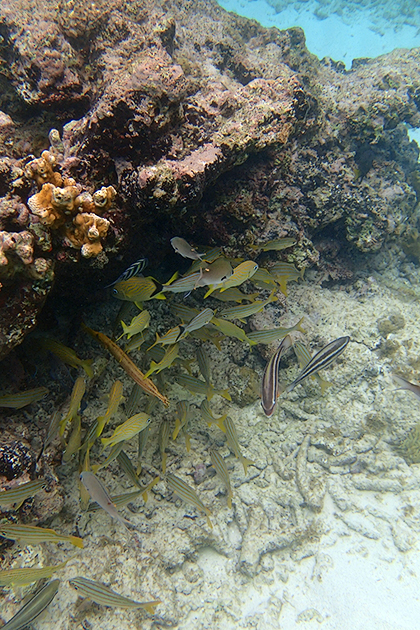 We spent a couple hours relaxing and snorkeling on Daaibooi; the visibility in the water was fantastic, and the coral was in great condition. We went around the point of southern cliff, where the underwater world really came to life. Giant elkhorn coral, angel fish, parrot fish, brain coral, trumpet fish, and hundreds of other things I didn't yet know the names of.
There's also a small restaurant on Daaibooi Beach, which is well-known for its french fries. They're good, the beer is good, the beach is good, the snorkeling's good. In fact, I can't think of anything to complain about. Except perhaps for those death trees.