A couple kilometers south of Grote Knip, you'll find its little brother, Kleine Knip. Grote Knip was the first beach we visited in Curaçao, and had already secured a place in our hearts. Would Kleine Knip be able to compete? In a word: yes.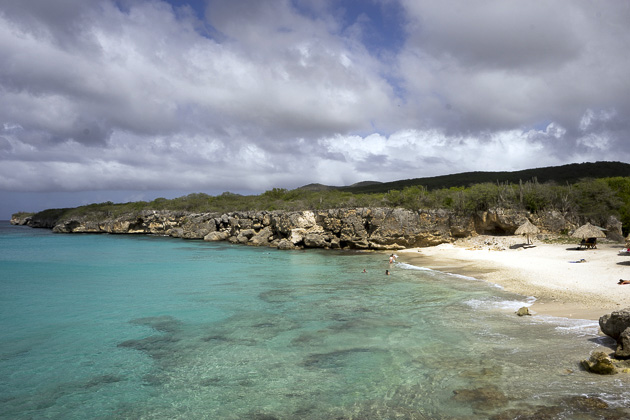 "Kleine" is Dutch for "little," but although this is the smaller of the two Knip beaches, it's of a decent size. Even when there are a lot of people here, it's easy to find a shady spot to sit, whether it's under a tree or a palapa. The parking lot is right next to the beach, in the presence of a hot-dog stand which does brisk business, so it feels more secure than Grote Knip's lot, which is more secluded.
The view, as we're already learning to expect from our Curaçaoan beaches, is enchanting. I'll never get used to the startling color of the Caribbean, and Kleine Knip doesn't disappoint in this regard. It's also a great spot for snorkeling; we checked out both the southern and northern cliffs, and found each one stunning.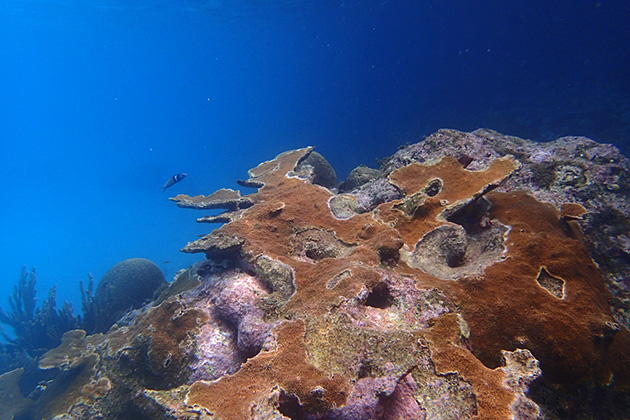 As proof of our affection for it, Kleine Knip is the beach on which we chose to spend Christmas Day. We had already been here and, for Christmas, we wanted to relax and enjoy ourselves somewhere we knew would be great, without having to bring the camera and take pictures. Kleine Knip was the perfect choice.
Entrance to the beach is free, and you can rent lounge chairs for a small fee. Apart from the hot-dog stand, there aren't any other services.