The Black Sand Beach of Santu Pretu
If you're looking for solitude, lace up your hiking boots and tromp through the woods to Santu Pretu, a small beach of black sand accessible from Santa Cruz. Here, you'll find untouched nature, strange sand, and excellent snorkeling, but you probably won't find any other people.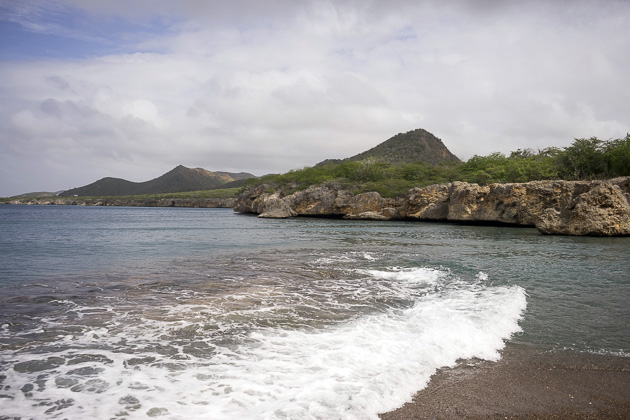 Santu Pretu is halfway along the path that connects Santa Cruz to the jump-off point for Curaçao's famous Blue Room: an easily-accessible cave in the cliffs which sparkles beautifully with the Caribbean's crystal blue color. But we'd be saving the Blue Room for another trip, because today we were content to stay on Santu Pretu.
This is a fairly remote spot; there are no services at all, and although there is a path which 4x4s could probably negotiate, the main way to arrive at Santu Pretu is on foot. It's about a fifteen-minute walk from the parking lot of Santa Cruz. The sand at Santu Pretu is coarse and dark; not the soft, white sand found at other, more conventional beaches, and lends the beach a different atmosphere.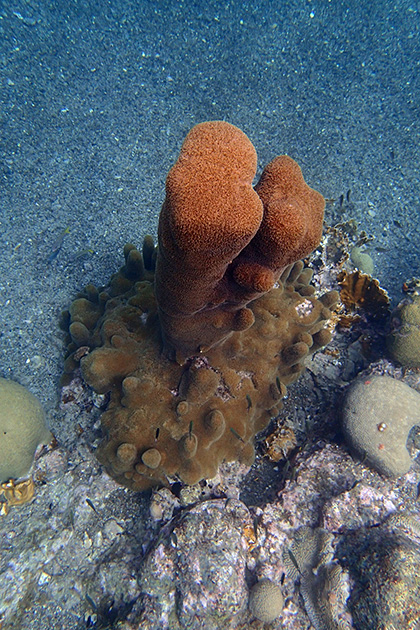 The lonely, peaceful vibe of Santu Pretu is great, but the best reason to seek it out is the snorkeling. Just off shore, there's a fantastic reef with tons of things to see. For us, the highlight was a large coral tower, whose short orange fuzz moved with the waves in a mesmerizing way.
Besides hearing it referred to as the "black sand beach", we didn't know anything about Santu Pretu, so our time here was a real surprise. I would say that it was among favorite spots on Curaçao… but we have bestowed that exact same honor upon so many other places, that it's lost its significance. Curaçao is blessed with a lot areas of extreme natural beauty, and Santu Pretu is yet another one.