Landhuis Jan Kok and the Nena Sanchez Gallery
When the plantation house of Jan Kok was in operation, it was a place of cruelty, where hundreds of enslaved men and women were put to hard labor. But time mellows everything, and that apparently goes for Curaçao's landhuizen, as well. Today, the Jan Kok is home to the colorful work of native Curaçaoan artist Nena Sanchez.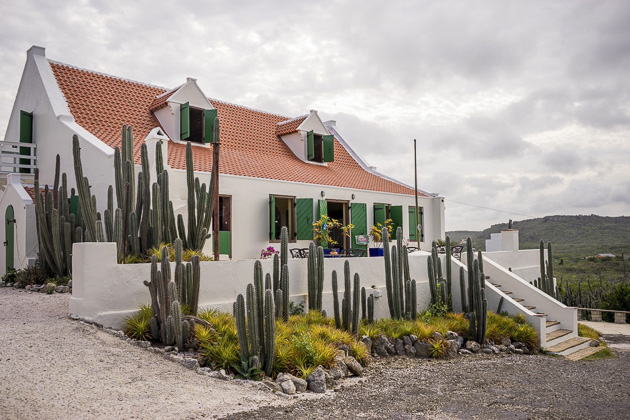 Originally constructed in 1704, the Landhuis Jan Kok was rebuilt completely in 1840 after a fire. It sits atop a hill, commanding an excellent view over the region, including the flamingo reservation of Sint-Marie and nearby Sint Willibrodrus. This plantation was mostly dedicated to salt, and once had over a hundred slaves. Jan Kok himself had a reputation as one of the island's more vicious slave-owners, and there's a legend that his malevolent spirit still haunts the premises.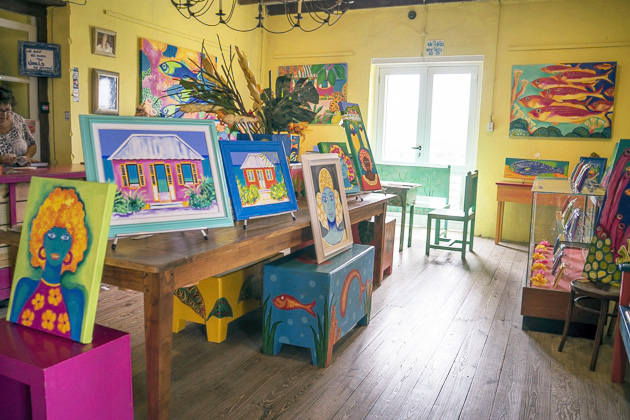 However, the plantation house is safe today. In the presence of Nena Sanchez's exuberant artwork, not even the worst of demons could maintain their malevolence for long. Born in Curaçao, Nena has had a whirlwind life. In 1966, she was named Miss Curaçao, and went on to compete in the Miss Universe pageant. Afterwards, she lived all around the world, including stints in Asia, Europe and South America. But she eventually returned to her homeland and dedicated herself to painting: her lifelong passion.
With its painted buildings, clear blue sky and shimmering Caribbean waters, Curaçao is a colorful place, and Nena's artwork seems to transfer the island's hues directly onto canvas. Her pieces are spread throughout the Landhuis Jan Kok, and even spill out into the garden, which she has turned into a beautiful open-air gallery.
The Landhuis Jan Kok is certainly worth a stop, perhaps after having seen the nearby flamingo sanctuary. Entry is free, although you might find yourself unable to opening your wallet for one of Nena Sanchez's Caribbean prints.