Along the banks of the Waaigat, a fleet of small, wooden ships is stationed, each carrying a load of fruits and vegetables from nearby Venezuela. This is Willemstad's Floating Market, where Curaçaoans have been purchasing their produce for a hundred years.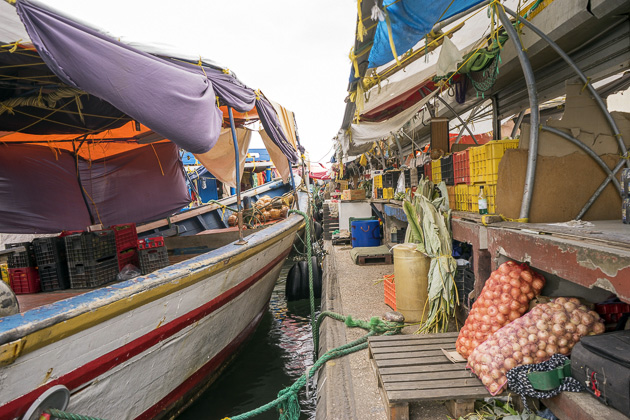 Curaçao is a beautiful island, but its arid climate isn't conducive to fruit orchards or fields of vegetables. Luckily, the harvests of the mainland are not far-off. Sailors from Venezuela's coastal towns long ago recognized the potential of their neighbor to the north, and have set up an enduring, mutually-beneficial trade; Venezuelans provide the produce, Curaçaoans provide the cash.
We noticed right away that the market itself doesn't actually float. The stands are set up on solid ground in front of each ship. At the end of each day, everything is packed back onto the boats, and the vendors sleep on-board as well. When they make the trip to Curaçao, they tend to stay for a long time. One guy told us about his shifts; he spends two months in Curaçao and two back home in Venezuela. His merchandise is replenished every day with fresh goods from the mainland.
Times have changed and, today, most Curaçaoans shop in regular supermarkets, but the Floating Market still does a brisk business. Both locals buying their weekly produce, and tourists looking for a healthy snack will stop by. And we occasionally saw shoppers drive slowly down Caprileskade and pause to yell out their order, which the sellers would rush over in a hurry.
The prices don't seem to be any cheaper than at a supermarket, and if you look like a sucker, the Floating Market might be more expensive. Our first time there, we were easy marks; Jürgen was taking pictures and I was sporting the oafish grin that emerges whenever I'm encountering something new. The guy charged way more than what we would have paid in a supermarket, and the avocado had a rotten side which he had cleverly concealed until it was in the bag.
But it was hard to begrudge him. It's not an easy job these guys have. The villages they come from are poor, and this lifestyle barely allows them to support their families, whom they don't see for months. If you want a glimpse into their situation, check out the 2003 documentary called Floating Market, directed by by Joan Kaufman. After having watched this, I wanted to return to the market with an even goofier grin, and allow myself to be scammed even more blatantly.
–Check Prices For Flights To Curacao