For 91 Days,
we called the tiny Caribbean nation of Curaçao home. Just off the coast of Venezuela, Curaçao is still a member of the Kingdom of the Netherlands. For us, it was a great unknown; a year before arriving, we had never even heard of Curaçao… but we would learn. Three months proved to be a perfect amount of time to explore the island nation. Whether you're planning your own journey to Curaçao, or are just interested in seeing what makes the island so special, our articles and photographs should help you out. Start
at the beginning
of our adventures, visit our
comprehensive index
to find something specific, or choose one of the articles selected at random, below:
The Coastal Walk from Otrobanda to Piscadera
A popular walking path connects the neighborhood of Otrobanda to Piscadera, up the coast to the north. We regularly drive by this path, and always see people walking their dogs or jogging on it. So we decided to join them on an otherwise lazy Saturday afternoon, for a much-needed spot of exercise….
Feb 10, 2016
Curaçao Carnival's Grand Parade
Events related to Curaçao's Carnival, such as the Tumba and the Horse Parade, had been taking place throughout the months of January and February. And they were all leading up to the Grand Parade: a long procession of music, costumes, drinking and dancing, and a celebration of pure joy….
Feb 08, 2016
The Blue Room

An almost entirely submerged cave found in the cliffs of the western coast, the Blue Room is one of the island's most famous snorkeling spots, second perhaps only to the Tugboat. We visited it during our last week on Curaçao, and found it to be just as beautiful as advertised….
Feb 27, 2016
After three months spent living on the small Caribbean island of Curaçao, Jürgen and I came away with some unforgettable memories. We've now collected our experiences into an e-book, with all of our articles and over 200 full-color photographs.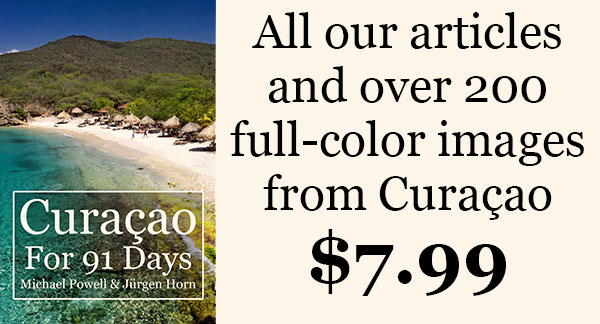 This e-book is perfect for your Kindle, Nook or any other e-reader. With over 200 full-color pictures and all our articles, indexed alphabetically and by category, this portable edition of our blog is perfect for when you're out and about on the island. Over the course of three months, we became familiar with almost everything Curaçao has to offer, as well as some secret corners known only to locals. We discovered great beaches, visited the old Dutch Landhuizen, explored Willemstad's colorful neighborhoods, and sampled some excellent Caribbean cuisine. We're sure that our anecdotes, advice and photos can help inspire your own trip to the island.
For just a few bucks, you can download your own copy of the book for use on your e-reader or computer, giving you access to our articles wherever you are, without having to connect to the internet. If you'd like, take a look at some sample pages from the PDF.
Don't forget to check out our other e-books, from our 91 days in Oviedo, Savannah, Buenos Aires, Bolivia, Palermo, Sri Lanka, Busan, Idaho, Istanbul, Iceland, the Yucatán, Tokyo, Macedonia and Valencia!