To the Top of Christoffelberg
Curaçao's most popular hike, and perhaps its only popular hike, is the trek to the summit of Christoffelberg. At a modest 372 meters above sea level, this is the tallest peak on the island, and reaching the top requires an effort of about 90 minutes.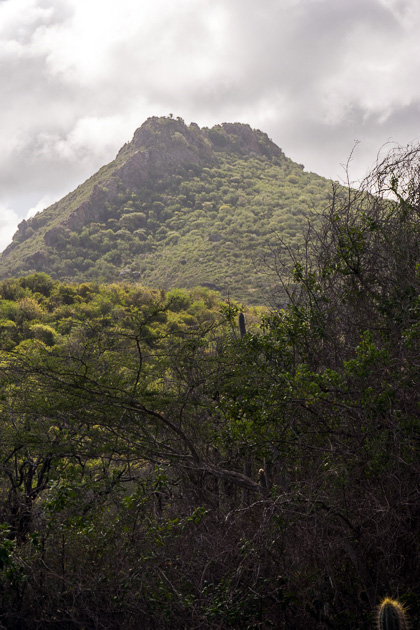 Here on Curaçao, where life is about beaches and relaxation, a 90-minute uphill hike seems more strenuous than it probably is. We've raced up much higher mountains in places like Iceland and Idaho without thinking twice, but getting to the top of the Christoffelberg was hard! Maybe it's the temperature. People are actually prohibited from beginning this hike after 11:30 in the morning, as the midday heat can be unexpectedly dangerous.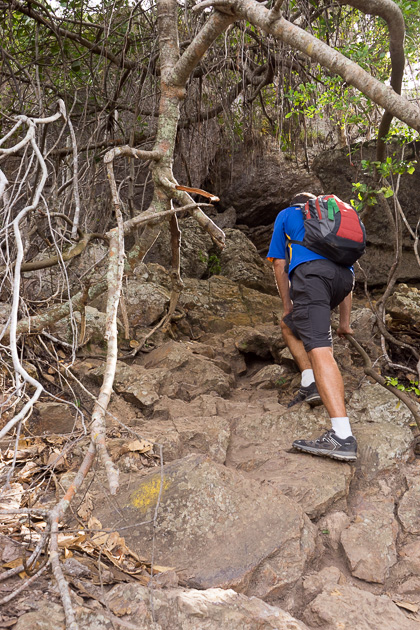 This was the only hike we completed on Curaçao where we saw other people, and we saw a lot. In fact, we blazed past at least a dozen on the way up Christoffelberg. I'm not claiming that Jürgen and I are fast hikers (we're actually rather slow, with all the picture-taking) and I don't want to come off as a "know-it-all." But honestly, what is with all the flip-flops? Who hikes up a mountain wearing flip-flops?! Maybe it's the only footwear you brought along on your trip to Curaçao, and that would be totally understandable. But in that case, don't climb the Christoffelberg! You're going to be miserable. Just go do something else.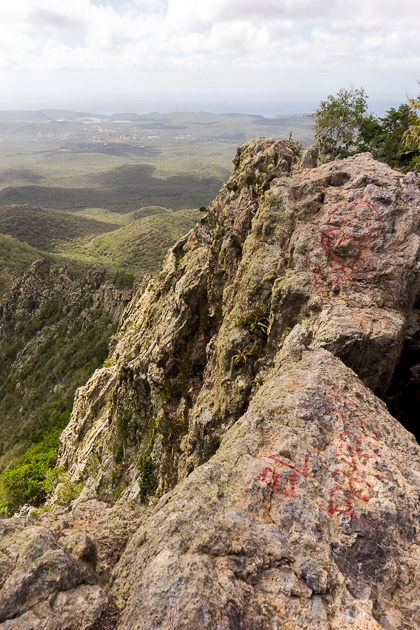 Anyway, we passed by the suffering flip-floppers and made it to the top of the mountain in an hour and a half. The ascent is steady, and leads through some lovely forested areas. It only gets really difficult toward the end, where the mountain's peak becomes rocky and more vertical. The view from the top was as wonderful as we had expected; the entire northern end of the island was visible, and it was fun to find and point all of the places we had visited.
To best enjoy the hike, arrive at the Christoffelpark as early as you can in the morning. The temperature will be better, and there will be fewer other people on the path. You have to pay entrance to get into the park, and then you can drive to the trailhead. The hike itself is uncomplicated, but you do have to be in decent physical condition, and make sure to bring plenty of water.
Locations on our Map – Trailhead | Summit
Our route on Wikiloc
Chrisoffelpark – Website