Bon Pascu i un Felis Aña Nobo!
It's always fun to see how people around the world celebrate the holiday season. Every culture that recognizes Christmas has its own traditions, and New Year's Eve can be wildly different depending on the country you're in. We suspected that Curaçao would turn New Year's into one big, loud, outdoor party… and we weren't wrong!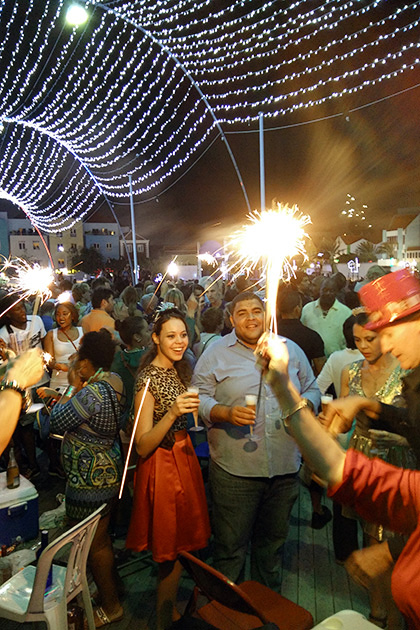 Neither Jürgen nor I have ever been Christmas guys, and in Curaçao, it was especially difficult to get into the holiday spirit. I mean, it's 29° (85°F) out and we're at the beach! Our families are far away, we don't have a tree, and we didn't even think about presents. Just being in Curaçao seemed a good enough gift.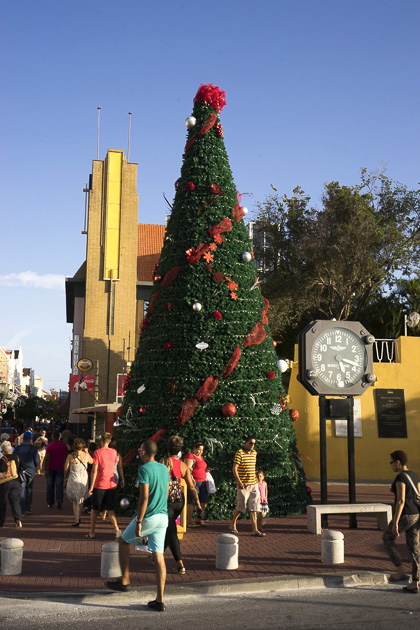 But if we weren't in the Christmas spirit, it's not because Curaçao wasn't trying. Curaçaoans love the holiday. People buy Christmas trees (despite firs not being exactly native to the island), string lights up along their houses, and play Christmas music… often songs we know, but with a Latin twist. Sons and daughters living overseas come home, and families get together to celebrate around a pan di jamón: a Christmas sweet bread stuffed with ham, raisins and olives.
Santa Claus doesn't visit Curaçao. Instead, the gift-giving duties are taken over by Sinterklaas, who arrives on December 5th. This is the big day for the children, when they get most of their gifts. Historically, Sinterklaas has been accompanied by Zwarte Piet, an assistant dressed as a minstrel and wearing blackface. Unsurprisingly, Zwarte Piet is a tradition in decline, although you can still find his grinning face on Christmas cookies in the supermarket.
Although Jürgen and I mostly sat Christmas out, we made up for it on New Year's Eve, an event which Curaçao goes crazy for. You don't have to be around Curaçoans for too long before realizing that they love to party, and New Year's Eve is the perfect opportunity. It's a big day, and they get started early; by noon, we were already drinking beer at an event in Pietermaai where they'd be celebrating with something called a "pagara."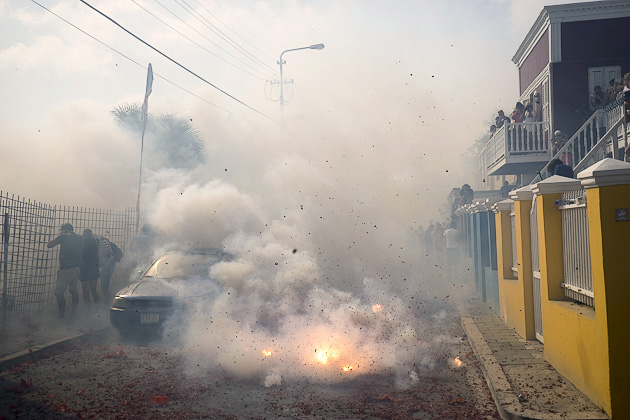 Pagaras are super-loud, super-long strings of fireworks which are set off all over the city, all day long on New Year's Eve. At two kilometers in length, Pietersmaai has one of the biggest, and we watched the whole thing explode, deafened by the noise and choking on the smoke. It was awesome… though it was probably a good thing that we already had a few drinks in us. My ears were still ringing the next day.
The pagara reminded us both of the noise fireworks called mascletàs, from our home town of Valencia. But we had no time to wallow in nostalgia, because we had to hurry to Otrobanda for another party, and another pagara. This was a more private affair, to which we had been invited by a friend. Before the firecrackers got going, there was a band playing tambu music. This is a style of music originally from Africa, and today the band was singing about the year that was, improvising lyrics which lampooned the island's problems and politicians.
A couple hours before midnight, we walked down to Brionplein, where seemingly every person on the island had congregated to usher in the New Year. We found spots to sit on the Queen Emma Bridge, and waited for the hour to strike. When it happened, fireworks exploded in the sky all around us; from the wharf, from Fort Amsterdam, from somewhere in Otrobanda, and we shared hugs and kisses with the total strangers who happened to be standing near us. It was a fantastic way to ring in 2016, and the best New Year's we've had in a long time.