The inland region between Vaersenbaai and Grote Berg is known as Malpais, which can be translated as "The Badlands." Despite the rather uninviting name, we embarked on a hike through this undeveloped, uninhabited terrain, following the Biná and Jamanika trails, and ending with a swim at the secluded Boka Unico.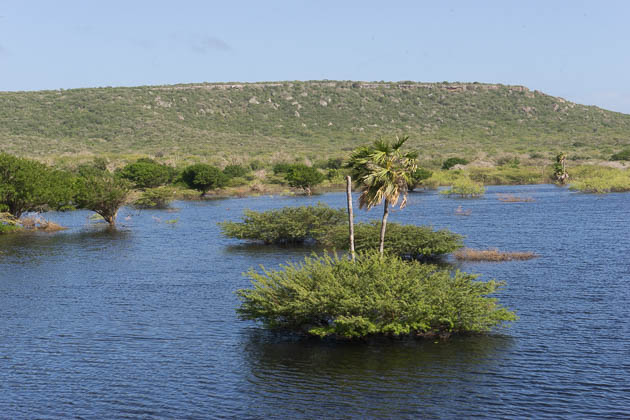 Our adventure in the Badlands started easily enough, with a leisurely stroll through a forest populated by twisting trees, following a trail that leads to Lago Dispersa. As its name suggests, this lake tends to disappear in summer, but we were visiting in the rainy season, so there was plenty of water. Pretty, untouched and isolated, this was the kind of nature we love to discover on hikes.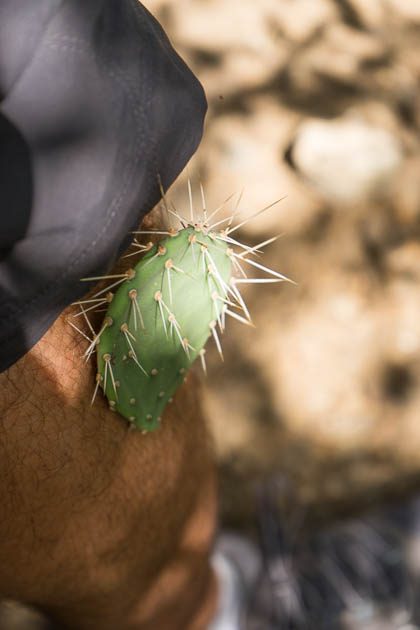 However, now we entered into the sort of nature we could do without. We found the Jamanika Trail, which leads up a large hill of the same name to the north of the lake. As we ascended, the pretty trees were replaced by giant cacti, the shade-giving leaves by flesh-gouging thorns, and the shade itself by scorching sun. The path was relatively obvious, but often blocked by a fallen cactus or overgrown brush… we always found a way around, but not without some anguish. Twice, I felt something pinching me, only to discover a prickly pear cactus pod fixed securely to my skin — once on my calf, once on my forearm.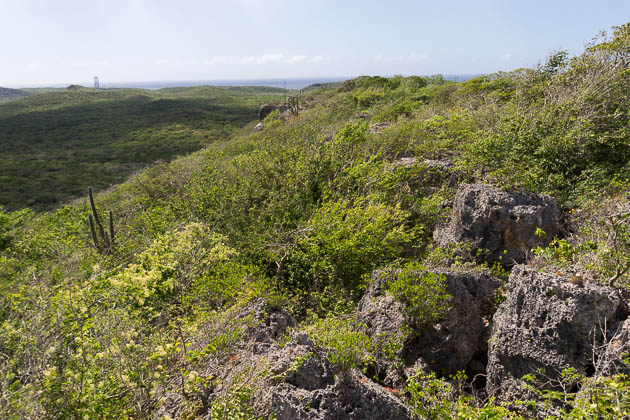 It wasn't easy, but we made it to the top of the Jamanika Hill and were rewarded with views over the landscape. We could see the lake from which we'd just come, and behind it the somewhat less-charming Malpais Landfill. Otherwise, the rest of the view was one of wild nature. Curaçao isn't a big island, so it's surprising to see that such a large swath of it hasn't yet been developed.
The way back down was easier; the westernmost of the Jamanika Trail's two halves is far less troublesome, with less cacti and a wider path. If we were to do it again, we would both come up and go down this side of the hill.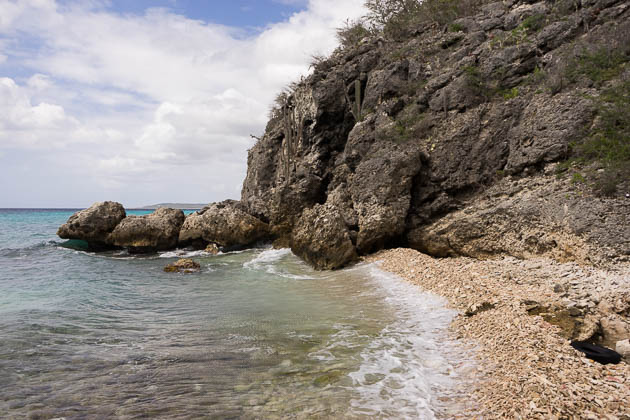 Our day ended at the Boka Unico. After leaving the Badlands, we found a trail to this little-visited spot on the other side of the road. Only accessible by foot, Boka Unico is not a sandy beach where you could spend all day luxuriating in the sun, but a small, rocky cove. Good enough for us! We stripped down and hopped in the water for some snorkeling. It was a refreshing way to end a long day of rough Curaçaoan nature.
Locations on our Map: Lago Dispersa | Boka Unico
Our Route on Wikiloc – A long part of this route was wiped when my phone lost GPS, and appears as a straight line on this map. Luckily, the trail at this point is easy to follow.
–Book your Curacao Hotel here!