Intrepid Explorers Discover Playa Hunku
We carefully made our way along an overgrown path, which, according to my calculations, had last been used by the Arwak Indians sometime in the late 1400s. Our mission was to find the legendary Playa Hunku, a place rumored about in whispered conversations across the island, but which no living man or woman had yet laid eyes upon. Our expedition was fraught with danger (cacti! mosquitoes!) but after a wearying trek of twenty entire minutes, we saw it: the fabled beach of Playa Hunku. And it was ours… all ours!!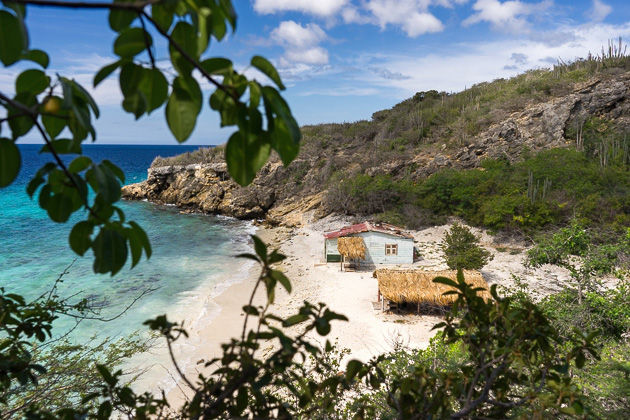 The best part about this story is, I'm only exaggerating a little bit. Playa Hunku really is a hidden gem on Curaçao. Despite being so close to the popular resort of Playa Porto Mari, relatively few people know about it. We've even met locals who weren't aware of its existence.
I hasten to point out that Playa Hunku is on private land. The road which leads there is closed, with signs indicating that trespassing is forbidden, and this might explain why the beach is almost always empty. But we checked with a few quasi-legitimate sources, all of whom assured us that it wouldn't be a problem to walk over to the beach via the short path from Porto Mari. The owners don't really care if the occasional tourist finds their way here, but they don't want to open the road and have it become popular on a larger scale.
The path to Playa Hunku begins at the back of Porto Mari's parking lot, with a brisk ascent up the Seru Mateo. From the top of this hill, you can look back for a nice view over the Playa Porto Mari… and it looks so beautiful, you'll be tempted to run back down the hill and jump into the water. But press on, audacious adventurer! After a short hike of about twenty minutes, you'll reach the other side of the hill, and be rewarded with your first glimpse of Playa Hunku. Note that the descent to the beach is steep and requires some caution.
The beach is a dream; a beautiful patch of sand, larger than we expected, with excellent snorkeling. While I was out by myself, a massive fish swam next to me, easily six feet long. I only spotted it from the corner of my eye, and wasn't able to identify it before it swam swiftly away. In moments like this, logic flies out the window… I know there are no shark attacks on Curaçao. I know that. But I also know there's always a first time. So I went into panic mode, swimming as swiftly as possible to shore. Later, Jürgen dared to go in after me, and got a better look at the same fish… it was a tuna.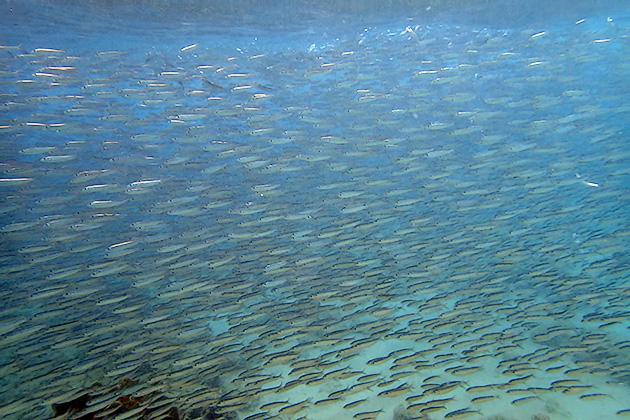 We had an incredible time at Playa Hunku, and are loathe to write about it, since the magic of the place lies in its mystery and seclusion. But you're reading this, which means you're cool, so we're letting you in on the tip. If you do go, please keep in mind that you're a guest on private land. Don't show up with a huge party, and (although it hardly needs said) make sure to clean up after yourself.
Location on our Map
Our Route on Wikiloc