Kayaking through Curaçao's Mangrove Forests
In the past century, Curaçao has seen a dramatic reduction in its mangrove forests, as valuable coastland has been gobbled up for development. It's not a problem unique to the island; mangroves around the world have come under similar attack. But with the help of Ryan De Jongh and the Carmabi Foundation, the plants are making a comeback on Curaçao.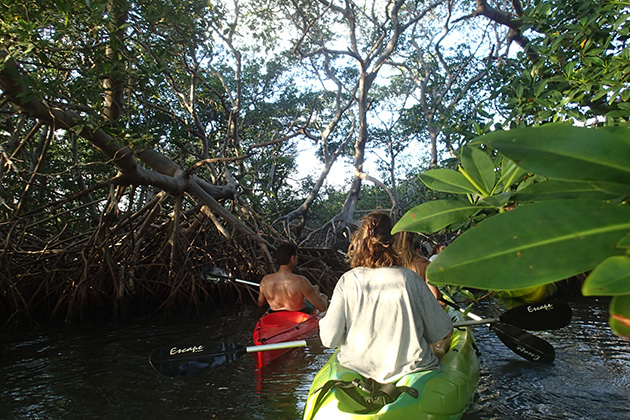 Mangrove trees are a critical part of coastal ecosystems in the tropics, providing a buffer between the sea and land. They protect against erosion, limit the damage of hurricanes and tropical storms, sustain a variety of bird and fish life, and maintain water clarity.
It was perhaps this last point which spurred Ryan De Jongh into action. He's a native son of Curaçao, from one of the first Dutch families to have arrived on the island, centuries ago. But he didn't set out to become an environmentalist. His true calling is kayaking; he's participated in races around the Caribbean, including a marathon journey from St. Maarten to Curaçao. But after getting involved with Carambi and learning what the destruction of the mangroves would do to the island's water, he felt he had to step up.
Ryan took it upon himself to help teach Curaçaoans about this important ecological resource, personally going from school to school, and constantly petitioning the government for funds. He's re-planted huge swaths of mangroves, and also organizes kayak tours to help educate people about them.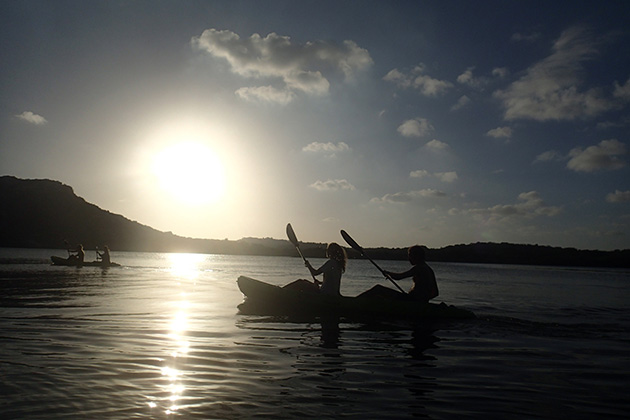 It was early afternoon when we arrived at offices of Carambi, next to the Pirate Bay beach club. Together with Ryan and a visiting Dutch family, we carried our kayaks into the water and set off. We had a hard time keeping pace with everyone else, since Jürgen kept putting his oar down to take pictures. But it was hard to scold him; with the sun just starting to sink, it was a beautiful scene, and grew more so as we rowed further inland, approaching the mangroves.
We made a couple stops on our tour. The first was to see some of the mangroves which had been replanted years ago, and learn more about their strange salt-cleansing properties. We then rowed to a shady spot where we saw some old-growth mangroves that had survived Curaçao's development boom. Finally, we arrived at another little bay where we could see some baby trees growing on a makeshift, floating "incubator" of Ryan's own design.
The tour lasted for about an hour and a half, and by the time we arrived back, my arms and back were aching. But it was a good, sporting kind of ache, and it had been worth it; this was a great experience, and a fun way to see a different facet of Curaçao's ecology. If you're interested in doing something similar, contact Ryan directly through his website.
Ryan de Jongh – Website
–Rent An Incredible House On Curacao