Built in 1705 on the small Caracasbaai Peninsula, Fort Beekenburg once protected the natural harbor of Spanish Waters from attacks by pirates and foreign nations. The fort has remained in excellent condition, and makes for a fun excursion.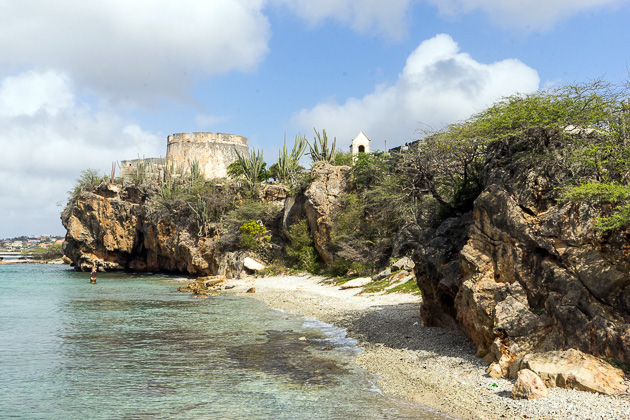 Perhaps we have oil to thank for Fort Beekenburg's current state of preservation. When Shell came to Curaçao in the early 1900s, the Caracasbaai Peninsula was made part of its property. The company had no major interest in the fort, and left it alone. Regular people weren't allowed to visit Fort Beekenburg until 2005, when Shell sold the refinery to the government, and Caracasbaai was reopened to the public.
A perfectly circular tower with a number of evenly-spaced notches for cannons, Fort Beekenburg looks exactly how you might imagine a defensive bastion, like a rook from chess. This is a site completely open to exploration; there's no entry cost, nor signs explicitly prohibiting or allowing access. You can walk up a rounded set of stone stairs onto the first story, and then climb a ladder to the top of the tower.
This was a real surprise for us; we didn't expect to find Fort Beekenburg in such good condition, and appreciated the fact that we could freely climb around at our leisure. This was the first thing we did during our visit to the Caracasbaai Peninsula, an area of Curaçao which turned out to be full of fun experiences.