The Curaçao Liqueur Factory
From now on, when I hear the word "Curaçao," I'll think primarily of soft, sandy beaches, and colorful buildings. But there was a time (not that long ago!) when the only connotation brought to mind would have been "liqueur." Blue Curaçao has long been a staple at bars around the world, and we went to the Landhuis Chobolobo to see the factory in which it was originally produced.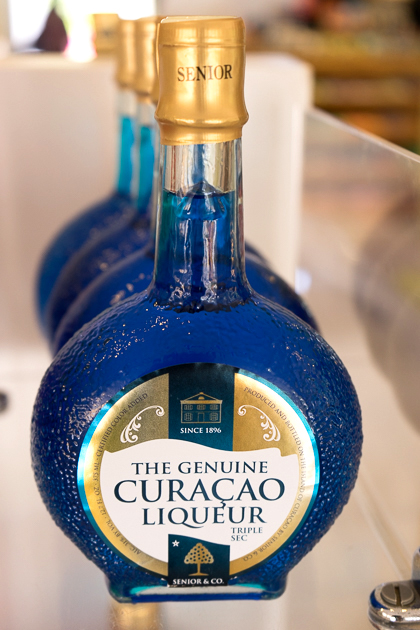 Curaçao liqueur is made from orange peels. Oranges aren't a native fruit to the island, but a few trees were brought over long ago from Valencia, Spain. The harsh, windy climate of Curaçao proved too brutal for the sweet little trees and after they failed as a crop, they were forgotten about. Over the course of the centuries, the oranges adapted to the terrain, toughening up and becoming known as lahara trees. The bitter fruit of lahara oranges is nearly inedible, but the peels retain the aromatic essence of their Valencian ancestors, and lend Curaçao Liqueur its distinctive flavor.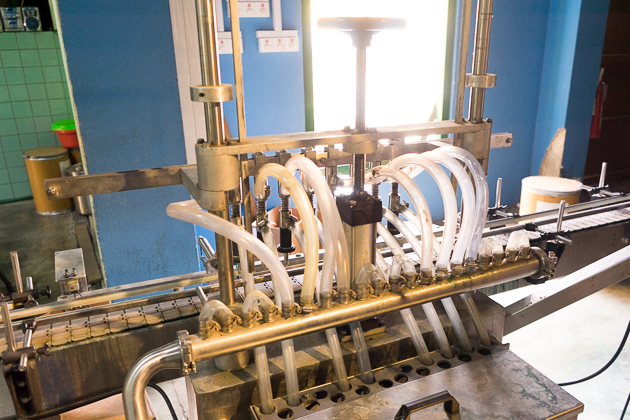 Call me naive, but I had assumed that Blue Curaçao's famous color was due to some sort of strange chemical process, and I was excited to tour the Landhuis Chobolobo and find out exactly how it was achieved. So when I learned that the liqueur itself is clear, and the blue comes from regular food coloring, I was disappointed. Turns out, the "secret" behind Blue Curaçao's color is one which has already been unlocked various times by my five-year-old nephew during his kitchen experiments.
The Chobolobo factory is still churning out Blue Curaçao, and even using their original distillation equipment, which dates from the early 19th century. The factory tour is free and self-guided, but at least they've bothered to make the displays interesting and well-organized. You get a quick history of the island, and learn the story of the Seniors, the Jewish family who established the business. (Fun fact: Curaçao Liqueur is kosher. When they were first starting their business, the Seniors had experts brought in from overseas to certify their product.)
As you might expect, the tour ends at a bar where you can taste a variety of the Curaçao Liqueur, and a shop where you can buy some to take home. It makes a good souvenir, although a rather short-lived one. This sweet drink is one that goes down fast.
Location on our Map
Landhuis Chobolobo – Website
The Genuine Curaçao Liqueur – Website