Our new 91 day adventure had begun, and this time we were turning our attention to Curaçao, a Caribbean island off the coast of Venezuela. I could pretend that we were drawn by the island's history or its enchanting culture… but, really, we wanted something that was going to be low-key and a lot of fun. And for that, we could have hardly chosen a better destination than Curaçao.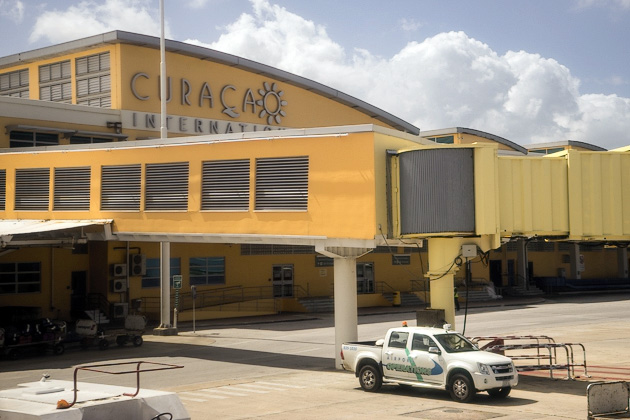 Curaçao is the largest of the ABC Islands, which also include Aruba to the west, and Bonaire to the east. It was a member state of the Dutch Antilles, but has been independent since 2010, although it's still a constituent of the Kingdom of the Netherlands. So although the island elects its own prime minister and parliament, and enjoys full autonomy in managing its local affairs, it depends on Amsterdam for things like defense and foreign policy.
But during the next three months, we wouldn't be thinking so much about things like defense and foreign policy. Nope, our concerns were going to be more like, which beach should we go to? Did I forget my sunglasses? What's the name of that awesome cumbia song our neighbor keeps blasting? Am I getting too tan? How are the conditions today for scuba diving? Things like that.
Well, we'd touch on Curaçao's politics a little. It wouldn't be just about beaches for 91 days. We made an effort to learn about Curaçao's history, which has been darkened by the specter of slavery and subjugation. We picked up a little Papamiento, a curious kind of Afro-Portuguese creole, which is music to the ears and the island's most widely-spoken language (Dutch and English are also official languages, and Spanish is heard frequently). And we explored some landhuizen: the manors in which Curaçao's Dutch landowners once lived.
And then, after each 40-minute session of culture or history, we'd scurry back outdoors. Curaçao is blessed with incredible nature. There are a ton of beaches, ranging from the clubby variety with bars and music and crowds, to smaller ones which are tucked away in secretive coves and visited mainly by locals and those in the know. Offshore, the snorkeling and diving opportunities are nearly endless, with sunlight filtering through the crystal clear Caribbean water to shine on coral reefs, submerged caves, ancient shipwrecks and hundreds of colorful fish. And inland, there's the Christoffel Park, centered around the island's only mountain, Mt. Christoffel, with a variety of hiking trails.
Six months ago, I had never even heard of Curaçao. I mean, I knew about the liquor Blue Curaçao, but it hadn't occurred to me that this was an actual place — I suppose I had assumed "Curaçao" was Portuguese for "delicious." So when I heard a podcast about the island (from Radio Nacional Española's excellent program Nómadas), I was enthralled. I consider myself pretty well-traveled… but there are still entire countries I've never heard of?! That filled me with excitement, and by the time the program had concluded, I knew that Curaçao would be the next place we'd be visiting. I ran over to Jürgen and enthusiastically argued the case. He let me babble for a long time, but later confessed that he was convinced within the first couple sentences.
Whether you know nothing about Curaçao, or have been here multiple times, this book should prove helpful. Curaçao is smaller than the Ohio county in which I grew up, and we explored it thoroughly. Within three months, we were able to do just about everything Curaçao has to offer… and if not, it wasn't for lack of trying.
For our stay in Curaçao, we rented a beautiful house in the historic Otrobanda district of Willemstad. Check it out on AirBnb
Pictures from our flight from Panama City to Curacao