For 91 Days,
we called the tiny Caribbean nation of Curaçao home. Just off the coast of Venezuela, Curaçao is still a member of the Kingdom of the Netherlands. For us, it was a great unknown; a year before arriving, we had never even heard of Curaçao… but we would learn. Three months proved to be a perfect amount of time to explore the island nation. Whether you're planning your own journey to Curaçao, or are just interested in seeing what makes the island so special, our articles and photographs should help you out. Start
at the beginning
of our adventures, visit our
comprehensive index
to find something specific, or choose one of the articles selected at random, below:
A Friday Night Feast at Equus

Located on the eastern side of Willemstad, Equus is a Curaçao institution, popular for both its mouthwatering food and chilled-out atmosphere. But it's not for everyone. Don't go if you're a vegetarian. Don't go if you had a big lunch. And definitely don't go if it's not Friday. However, if you're a hungry carnivore on Friday night, head on down. You're going to love this place….
Feb 27, 2016
The Curaçao Ostrich Farm

Established in 1995, the Curaçao Ostrich Farm offers guests the opportunity to meet and eat the world's largest birds. We joined a tour of the farm, which taught us a lot about the ungainly beasts and allowed us to get up close to them. Perhaps a little too close….
Jan 21, 2016
Gallery Alma Blou at Landhuis Habaai

An 18th-century plantation house on the western side of Willemstad, the Landhuis Habaai is home to Curaçao's oldest private art gallery. On the second Saturday of every month, they host a crafts market, where the island's amateur artisans can sell their masterpieces….
Feb 27, 2016
After three months spent living on the small Caribbean island of Curaçao, Jürgen and I came away with some unforgettable memories. We've now collected our experiences into an e-book, with all of our articles and over 200 full-color photographs.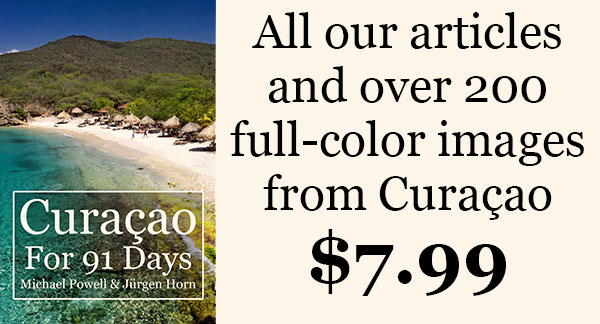 This e-book is perfect for your Kindle, Nook or any other e-reader. With over 200 full-color pictures and all our articles, indexed alphabetically and by category, this portable edition of our blog is perfect for when you're out and about on the island. Over the course of three months, we became familiar with almost everything Curaçao has to offer, as well as some secret corners known only to locals. We discovered great beaches, visited the old Dutch Landhuizen, explored Willemstad's colorful neighborhoods, and sampled some excellent Caribbean cuisine. We're sure that our anecdotes, advice and photos can help inspire your own trip to the island.
For just a few bucks, you can download your own copy of the book for use on your e-reader or computer, giving you access to our articles wherever you are, without having to connect to the internet. If you'd like, take a look at some sample pages from the PDF.
Don't forget to check out our other e-books, from our 91 days in Oviedo, Savannah, Buenos Aires, Bolivia, Palermo, Sri Lanka, Busan, Idaho, Istanbul, Iceland, the Yucatán, Tokyo, Macedonia and Valencia!